What's With All the Oil on Top of Nut Butter?
Posted on : March 1st, 2017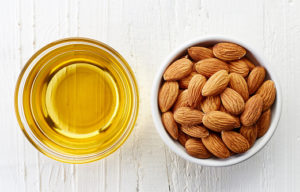 You're trying to be healthy and you bought a jar of Maisie Jane's almond butter. That's great! You open the jar and you're wondering what's up with all that oil on top? You give it a good stir and everything seems to be okay. It tastes good, but you're thinking back to the days you used to buy that big-brand peanut butter, the kind your kid used to eat, and you don't remember there being a layer of oil on top of those jars. So, what's going on here with Maisie Jane's nut butter?
Oil on top of nut butter is a good sign
Here's what you need to know: Maisie Jane's almond and cashew butter have only one ingredient—nuts—and no additives. Our nut butter doesn't contain the unnecessary additives that emulsify, or hold together, the natural oil and nut meat together. The oil is natural and normal, and it's the sign of a pure natural nut butter.
If you see a nut butter that doesn't have the separation of oil and nut meat, and everything is bonded together, you now know that there are additives bonding the ingredients together.
But when you choose Maisie Jane's almond or cashew butter, you know you're getting nuthin' but nuts! You know you're eating a healthier product.
All you need to do is give your nut butter a quick stir and start spreading – it's that easy!
Why are additives that emulsify bad for your health?
Let's get a little bit scientific. In simple terms, additives like monoglycerides and diglycerides are emulsifiers used in nut butter to keep the oil separating from the nut meat, adding unnecessary fat to nut butter.
Mono- and diglycerides are related to triglycerides, a type of fat found in your blood stream very similar to cholesterol. What does this have to do with nut butter? Mono- and diglycerides have one to two less fatty acids less than triglycerides. The difference is as simple as one, single fatty acid. Additionally, mono- and diglycerides are classified as emulsifiers. This means these two compounds are not required to be included in the fat count on a nutrition label. Yet, they can still cause increased plaque build-up in your arteries, and they are still fat. They are simply fat in sheep's clothing.
At Maisie Jane's we use only quality products with all natural ingredients that don't need to hide in sheep's clothing! Learn more about why we don't use additives.
What else makes Maisie Jane's nut butter so good for you?
Like we said, Masie Jane's nut butter has one ingredient—nuts! You know exactly what you're getting. No long ingredient lists that are hard to figure out, just nuts.
NO added salt
NO added oils
NO added sugar
NO preservatives
NON-GMO verified
Kosher Certified
Gluten Free
Wheat Free
Vegan
Made in a plant that does not process peanuts
Just 100% pure, dry-roasted nuts.
Maisie Jane's Almond Butter is a smart, tasty alternative to peanut butter! Having no cholesterol, and less fattening with fewer calories than peanut butter, there's no reason not to try it. Almond butter is bursting with flavor with no additives like the big brand nut butter.
Maisie Jane's California Sunshine Products, Inc. was founded on strong beliefs and passion for offering unique, flavorful, top-quality, almond products. We strongly believe in earth-friendly practices that start on our family owned and operated orchards. We use Organic farming practices and continue in the process by using all natural ingredients with no preservatives or GMOs. We believe in honest, friendly, and helpful customer relations at all levels. We take pride in every task, every day, with every person.