Need Some Energy for Summertime Fun?
Posted on : July 24th, 2018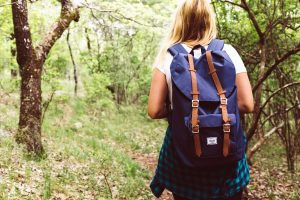 Summertime means lots of outdoor adventures, road trips, and long-awaited vacation time. But it's also HOT! And as soon as I go outside in the Chico 100º and up heat, I just want a nap! But I've come up with a few schemes for getting past that. First step is address my mindset. I tell myself "It's not so bad!" and it actually feels better! If I'm getting into a car with a too-hot seat, I remind myself of how nice a heating pad normally feels on my lower back and settle in to enjoy the benefits. And then I cheer myself up with a tasty cold drink and an energizing snack.
And that's where almonds come in!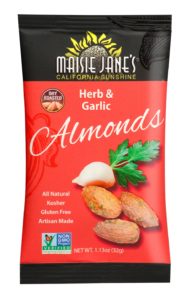 I like to eat a lighter plant-rich diet in the summer. Lots of salads, for example. But without adequate protein and fat, my lovely salad only takes me so far. So almond toppings save the day! My current favorite is a handful of Maisie Jane's Herb & Garlic Almonds. So crunchy and savory—it adds the protein and fat I need with a little extra tasty zest that I really like.
I also can't seem to live without a few of our Dark Chocolate Almonds by my side. The almonds provide the protein I need to keep my energy stable with just the right amount of dark chocolate to give me an extra boost when my spirits sag in the heat of the day. Dark chocolate (in moderation) is also lower in carbs than other sweet treats and full of health-enhancing antioxidants. Not to mention the terrific benefit of its mood-enhancing effects! Want a little extra zing? Try our Dark Chocolate Chipotle Almonds! So good, they're kind of addictive.
Try mixing some dark chocolate almonds with salted nuts like our Roasted Salted Cashews or Pistachios or some of each. Maybe throw in some dried fruit or coconut chips and you have Trail Mix! Bring some with you wherever you go. It makes a road trip or hike so much more fun!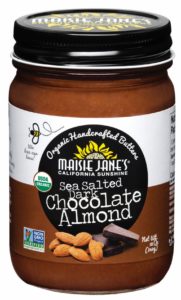 And how can I forget the nut butter! My favorite snack: slices of peaches spread with smooth or crunchy almond butter or —yum!— Organic Sea-Salted Dark Chocolate Almond Butter. Sweet and salty with slightly tangy fruit—there's nothing better than that!
Be creative and have some fun with Maisie Jane's! Now you're ready for a summertime adventure!
---
Maisie Jane's California Sunshine Products, Inc. was founded on strong beliefs and passion for offering unique, flavorful, top-quality, nut products. We strongly believe in earth-friendly practices that start on our family owned and operated orchards. We use Organic farming practices and continue in the process by using all-natural ingredients with no preservatives or GMOs. We believe in honest, friendly and helpful customer relations at all levels. We take pride in every task, every day, with every person.