Maisie Jane's Welcomes Two New Handcrafted Nut Butters to the Family
Posted on : August 23rd, 2017
Say hello to Sea Salted organic goodness! Maisie Jane's is excited to announce the arrival of two very delicious additions to the nut butter family. Introducing the luxuriously smooth Sea Salted Caramel Cashew Butter and the rich decadent Sea Salted Chocolate Almond Butter!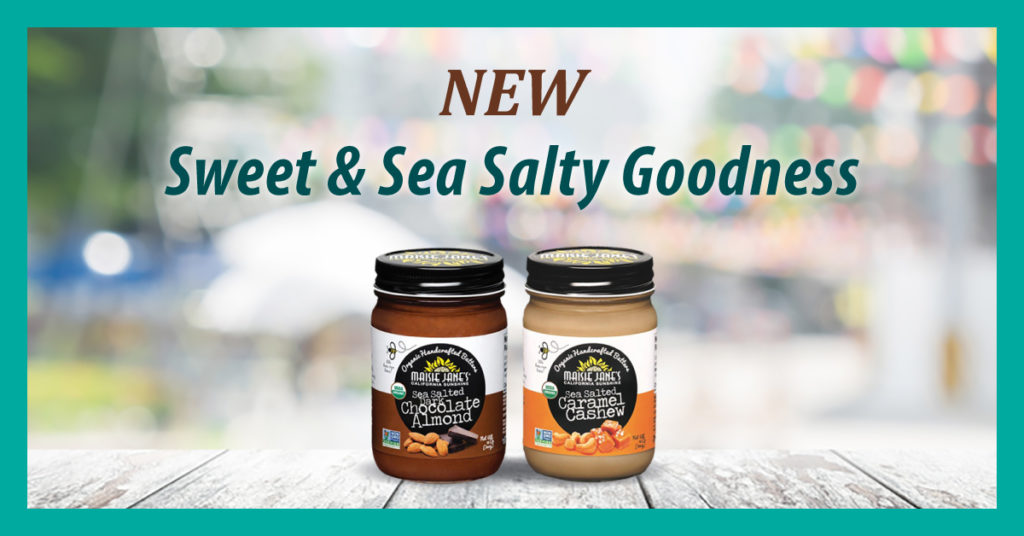 A special touch to the kitchen tables of healthy eaters
In her humble country kitchen, surrounded by love and the sound of little feet on hardwood floors, Maisie Jane dreamed up these two new handcrafted nut butters. Each a marvel all on their own, with rich flavor profiles and irresistible texture, these butters were born out of Maisie's desire to bring a special touch to the kitchen tables of healthy eaters, sticky fingers, and foodies alike. She made sure to stir together all the finest ingredients and leave out the extra sugar and bad stuff like palm oil so that you and your loved ones can enjoy guilt-free snacking.
Each jar of Maisie Jane's nut butters is handcrafted and personally taste-tested to make sure every bite is full of love and goodness. Maisie's own daughters can tell you themselves, that taste testing is a regular evening activity. Their new back to school favorite? Maisie's Sea Salted Dark Chocolate Almond on graham crackers!
We vow to mix our family values, environmental integrity, hard work, and nutrient-rich products into every jar of nut butter. As a company based on simple ingredients, it's our dream to bring the perfect balance of healthy and delicious to your own hungry taste testers.
Bring Home the Love
When we say these butters are made with love, we mean it. There's a never-ending love story between these smooth rich butters and the pancakes, waffles, and crepes they were destined to be with.
These butters are full of sweet and salty flavor designed to bring foodie nirvana right to your kitchen table. Try them for yourself…but be warned…they are dangerously addictive. Don't panic, they're organic!
Read more about these two new butters and the good stuff inside:

New! Healthy indulgence for the conscious consumer, this butter is the definition of refined rich taste, right down to the pallet pleasing name. A harmonious blend of sea salt, brown rice syrup, and organic dry roasted cashews, this enchanting butter is the perfect spreadable topping for all your favorite sweet treats, breakfast dreams, and everything in between. Even better, our locally sourced organic brown rice syrup brings the caramel flavor without the dairy, and comes from Lundberg Family Farms, a company that also prides themselves on sustainability, great quality products, and goodness in every bite! Scoop up a jar of this organic goodness at your local grocery store, at Maisie Jane's country store in Chico, California or in our online store.
---

New! Like biting into a luxurious almond chocolate bar while standing on the world's most beautiful white sand beach with gentle ocean spray drifting up from the waves…Say hello to Sea Salted Dark Chocolate Almond butter. We hunted down the best chocolate in Northern California for this decadent butter, and are proud to say we stir in the goodness of Guittard Chocolate Company. A spreadable delight for the chocolate lovers in us all, this butter is destined to sweeten up lunches, enrich after dinner treats, and adorn holiday baking favorites. The possibilities are endless with this amazing butter! Sea for yourself!
---
Power in Numbers
The best part about the two new butters, is that they are not just a power couple…they have a third trusty nut butter accomplice that completes one enchanting trio.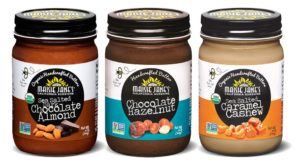 These three beauties are the dream team for real. Paired with our trusty Chocolate Hazelnut Butter that you know and love, these two additional flavors are bound to be just as lovable, spreadable, and desirable. Think of this trio as Maisie's Angels, the three out-of-this-world nut butter bombshells that will knock your socks off.
Besides being tantalizingly sweet and rich, we are proud to share that our butters are made with sunshine, clean water, nuts from our family's trusty orchards, and of course personal pride, in each and every jar. It's our mission to bring you products you can trust so that you can indulge in healthy clean goodness in the comfort of your home.
Let's get nutty!
Shop our Online Store for our new products as well as the oldie but goodies!
Maisie Jane's California Sunshine Products, Inc. was founded on strong beliefs and passion for offering unique, flavorful, top-quality, nut products. We strongly believe in earth-friendly practices that start on our family-owned and operated orchards. We use organic farming practices and continue in the process by using all-natural ingredients with no preservatives or GMOs. We believe in honest, friendly and helpful customer relations at all levels. We take pride in every task, every day, with every person.