Maisie Jane's Sweet and Savory Fall Breakfast Recipe
Posted on : October 27th, 2022
This week we have something special for you to cook up to get you into that cozy fall feeling.

Our very own spin on Sweet Potato Toast!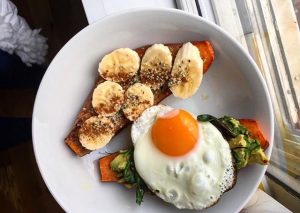 What you'll need:
1 sweet potato
1 egg
Your choice of your favorite Maisie Jane's nut butter
1 banana
½ an avocado
1/2 cup of spinach
Your choice of seasoning

If you're looking for a sweet and savory breakfast on those crisp fall mornings, look no further because sweet potato toast will definitely not disappoint.

First, preheat your oven to 425 degrees. Next, prep your veggies. Peel your sweet potato and cut in half, cut avocado in half and slice, and peel banana and cut into pieces.

Once your oven is preheated, roast the two halves of the sweet potatoes until soft and slightly crispy around the edges. While the sweet potatoes are in the oven, sauté half a cup of spinach and fry one egg to your liking (the more yolk the better).

When the sweet potatoes are done, separate each half. Take one half and spread your choice of Maisie Jane's nut butter, then add the slices of banana. You can add a sprinkle of cinnamon and sugar if you're wanting a little extra fall spirit added to your day.

Take your second half and add the slices of avocado, sautéed spinach, and fried egg. After adding all of the main ingredients, sprinkle your favorite seasonings.

This recipe is one of our favorites, and can't wait to hear what you think!