Maisie Jane's November Sale — 15% off Valley Sampler Gift Baskets
Posted on : November 6th, 2017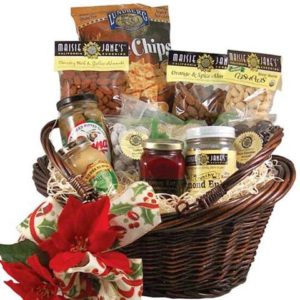 Hooray! We're headed into the merriest time of the year and to celebrate— and make your Thanksgiving especially festive—one of our MOST popular gift baskets, the Valley Sampler, is on sale for 15% off until November 22nd.
The Valley Sampler Gift Basket is a wonderful gift to bring to a holiday celebration! It is a beautiful large basket filled with a wide assortment of top quality products from the North Valley of California. You'll find local favorites like:
Lundberg Farms Rice Chips
Lundberg Farms specializes in healthier-for-you snack options that will satisfy more than just your tummy. Filled with whole grains plus easy-to-read ingredient lists, gluten-free, and Non-GMO Project Verified seals. You can try these chips with dip or salsa, but they are perfectly satisfying on their own!
Massa Farms Organic Rice
The organic rice from one of our local small family farms gets the best reviews! The San Francisco Examiner calls it "The nuttiest, sweetest, sexiest brown rice!" Try it for yourself and see!
Sierra Nevada Mustard
Yes! It's made with one of Sierra Nevada's famous locally-made beers! Beer gives their award-winning mustards a special character, aroma and taste that adds a sense of adventure to any meal.
Penna Sicilian Spiced Olives
Sicilian Style Spiced olives are cured in a light salt brine for 12-18 months to achieve their delicious mellow flavor. Grind them up to make a spread, add them to a sauce or stew, pop them into a salad or use them for an appetizer. They also go great with cheese and crackers.
Mountain Fruit Jam
Mountain Fruit Company's Jams are all made by hand in small batches in Chico, California. All natural with no preservatives, they contain over 77% whole fruit and have half the sugar of other "low sugar" jams. But, boy, are they good!
The baskets also contain a great selection of Maisie Jane's products:
Maisie Jane's Crunchy Almond Butter
Maisie Jane's Almond Butter is a smart, tasty alternative to peanut butter! It has no cholesterol and is less fattening with fewer calories than peanut butter, and yet it is just bursting with flavor. Made from 100% dry roasted almonds with no other ingredients and so so good!
Country Herb & Garlic Almonds
Two Old World favorites, California almonds and garlic, are joined together for an unforgettable experience. Enjoy these two European favorites as a mid-afternoon snack, a delicious salad topping, or with a glass of your favorite Cabernet wine!
Orange & Spice Almonds
"Orange & spice & everything nice" —these almonds are truly a dessert on their own! The real taste of orange, combined with pumpkin spices, will remind you of the tastes and smells of the holiday season.
Dark Chocolate Almonds
The dark chocolate lovers in the family will rejoice! Only superior dark chocolate is used to coat our freshly lightly roasted almonds.
Chocolate Toffee Almonds
These decadent almonds have a layer of rich chocolate around the roasted almond, surrounded by a layer of buttery toffee, and finished with a dusting of powdered sugar. YUM!
Organic Natural Cashews
These premium quality Organic Cashews have a flawless color and superior buttery taste.
With so many wonderful things to taste and enjoy, the Valley Sampler Gift Basket is sure to bring squeals of delight to your holiday gathering. Buy it online and have it delivered or pick one up at our country store at 1324 Dayton Road in Chico, CA.
---
Maisie Jane's California Sunshine Products, Inc. was founded on strong beliefs and passion for offering unique, flavorful, top-quality, nut products. We strongly believe in earth-friendly practices that start on our family-owned and operated orchards. We use organic farming practices and continue in the process by using all-natural ingredients with no preservatives or GMOs. We believe in honest, friendly and helpful customer relations at all levels. We take pride in every task, every day, with every person.