Love is in the Air
Posted on : January 31st, 2021
Roses are red, violets are blue, Valentines day is near, and we're here for YOU.
It's the season that allows us to "give a little suga' " to our special someone and let them know how dear they are to our hearts. And by "a little suga' " we mean a combination of delicious chocolate covered nuts or some of our other hand selected goodies.
We've got gift baskets like our "Cheers!" to Valentines Day basket that includes a galvanized ice bucket with a gold bee imprint plate, a bottle of Almendra's Sparking wine, 2 Champaign flutes, a Box of 8 large wine wafers, (2) Terri Sue's Salted Caramels, Maisie Jane's Chocolate Toffee, Cinnamon Vanilla Almonds, and a string of red heart LED lights! That's an evening of romance if we do say so ourselves.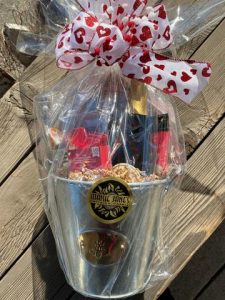 We carry an array of Sonoma Lavender Farm products that we have put together for another amazing Valentines Spa Day.  This basket includes a lavender neck pillow or neck wrap, with essential lavender oils that can be heated, pure shea butter hand lotion, Michel Design Works Lavender Scented Sachet and tissues, a faux potted sprig of lavender, Pre de Provence quad milled soap. Maisie Jane's Chocolate Toffee Almonds, and Dark Chocolate Almonds.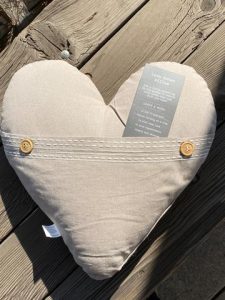 For a more sentimental gift, the Love Notes Heart Pillow will melt any heart. It's a pillow you can actually leave little notes in! How cute is that? A gift that keeps on giving.
No matter what tone you are trying to set this Valentines Day, a peruse around our online store will surely lead to a few treasures for him or her. If your are local, come on in, we'd love to help find the perfect match for you.
All items in our Valentines Gift Collection are 20% off until February 14th. Use code 
SHARELOVE
 at checkout to receive 20% OFF through Feb.14th 
Maisie Jane's California Sunshine Products, Inc. was founded on strong beliefs and passion for offering unique, flavorful, top-quality nut products. We embrace earth-friendly practices that start on our family-owned and operated orchards. We use organic farming practices and continue in the process by using all-natural ingredients with no preservatives or GMOs. We believe in honest, friendly and helpful customer relations at all levels. We take pride in every task, every day, with every person.