Let's Celebrate Cashew Butter!
Posted on : February 11th, 2020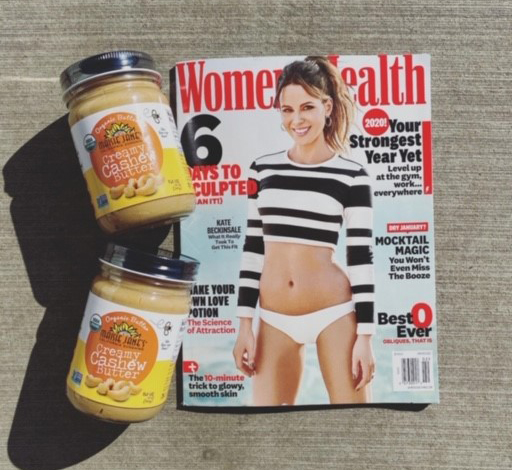 We're celebrating! Maisie Jane's Creamy Cashew Butter (Organic Creamy Cashew Butter) was featured in Women's Health Magazine this month! And to celebrate we're giving away a jar of our organic version–pop over to our Instagram to learn more!! (@maisiejanessunshine )
If you're not familiar with cashew butter yet, you should definitely try our nothing-but-nuts cashew butter. No additives, no sugar, no salt, no extra oil. Nothing but 100% delicious and good for you cashews! It's super creamy and thick—great for all things you love nut butter for. But if you're vegan or wanting to go dairy-free, you'll find cashew butter to be indispensable! Its mild flavor is a great alternative to dairy and can be used as a replacement for butter, milk or cream in all sorts of recipes.
But even if you're not cutting back on meat or dairy, it's fun to cook with cashew butter. I've used it to make wonderful soups. And it makes a good cheesy sauce. So today I looked up more recipes and found several more today I absolutely have to try:
Dinner Ideas
Side Dishes
Dessert Ideas
---
Maisie Jane's California Sunshine Products, Inc. was founded on strong beliefs and passion for offering unique, flavorful, top-quality, nut products. We strongly believe in earth-friendly practices that start on our family owned and operated orchards. We use Organic farming practices and continue in the process by using all-natural ingredients with no preservatives or GMOs. We believe in honest, friendly and helpful customer relations at all levels. We take pride in every task, every day, with every person.