Last Minute Shopping Suggestions for Maisie Jane's Gift Baskets
Posted on : December 18th, 2017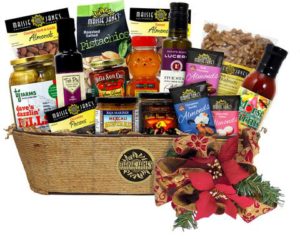 Today is the last day to order online for delivery in time for Christmas BUT if you live in or near Chico, CA you can still order gift baskets online—until December 21st— and pick up your purchases in the store! And that is the very best way to do last minute shopping at Maisie Jane's.  Why worry about battling the crowds only to find your favorite gift baskets already sold out? Just relax and choose them online and pick them up later. But don't delay too long! December 23rd is the last day for in-store pick-up.
What should you buy? No problem—we have something, I'm sure, for everyone on your holiday list!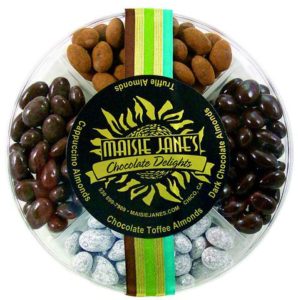 Sweet Tooth? Our large Chocolate Delights Gift Round will do the trick! It's a large round plastic serving tray with Dark Chocolate, Truffle, Chocolate Toffee and Cappuccino Almonds topped with a beautiful ribbon. And it's our current special of the month! Get 15% off!
Can't Eat Sugar? Try our Sugar-Free Decorative Box filled with Maisie Jane's bulk bag of Oven Roasted Almonds, Organic Natural Cashews, and Sugar Free Chocolate Bridge Mix.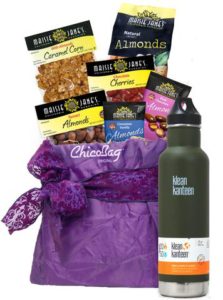 Eco-conscious? Our Be Green Gift Basket includes a Kleen Kanteen and a reusable Chico Bag filled with Maisie Jane's favorites: Chocolate Cherries, Dark Chocolate Almonds, Cinnamon Vanilla Almonds, Tamari Almonds, Natural Almonds, and Caramel Corn & Almonds.
Wine Lover? The products in our Perfect Wine Basket pair a beautiful decorative pail with Bertagna Son Kissed Vineyard's Barbera Wine, California Wine Wafers, Maisie Jane's Cinnamon Vanilla Almonds, Country Herb & Garlic Almonds, Dark Chocolate and Chocolate Truffle Almonds.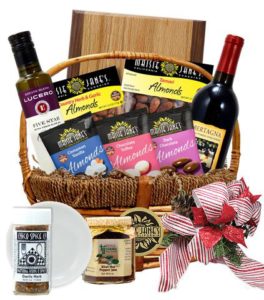 Gourmet Food Lover? Our Inspired Chef Basket will bring a smile. One of our most gorgeous baskets contains one of Bob Mabry's Handmade Cutting Boards with a dipping dish, Lucero Five Star Extra Virgin Olive Oil, Bertagna Son Kissed vineyards Barbera wine, T.J. Farms Kiwi Pepper Jam, Chico Spice  Garlic Herb seasoning, Maisie Jane's Tamari, Country Herb & Garlic, Cinnamon Vanilla, Dark Chocolate, and Chocolate Toffee Almonds.
Something Big and Impressive? Our Golden Valley Gift Basket featured at the top of the page is a real stunner! A true representation of our golden valley and all its bounty, this beautiful gift basket boasts an assortment of products to impress any recipient.  Stuffed with Maisie Jane's Walnuts, Morse Farms Mandarin BBQ sauce, Triple Play Traditional Balsamic Vinegar, Lucero Five Star Extra Virgin Olive Oil, Brannen Gourmet Paradise Pepper Sauce, Baja Mariner Mexicali Mustard, Mooney Farms Tomato Pesto, TJ Farms Dave's Dazzlin Dills, Maisie Jane's Honey, bulk bag Roasted Salted Pistachios, Country Herb and Garlic Almonds, Tamari Almonds, Dark Chocolate Almonds, Chocolate Toffee Almonds, Chocolate Pecans, and Cinnamon Vanilla Almonds.
And this list just scratches the surface of all the possibilities at Maisie Jane's! Check out our full gift selection and buy online today!
---
Maisie Jane's California Sunshine Products, Inc. was founded on strong beliefs and passion for offering unique, flavorful, top-quality, nut products. We strongly believe in earth-friendly practices that start on our family-owned and operated orchards. We use organic farming practices and continue in the process by using all-natural ingredients with no preservatives or GMOs. We believe in honest, friendly and helpful customer relations at all levels. We take pride in every task, every day, with every person.