Indonesian Style Almond Butter Glazed Salmon [Recipe]
Posted on : April 7th, 2017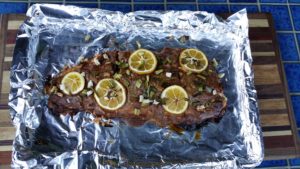 This recipe is a replica to the traditional Indonesian Peanut Sauce Maisie was introduced to while visiting beautiful Bali many years ago. She simply replaced the peanut ingredients with Maisie Jane's tasty and healthier Almond Butter choice. The sauce can also be enjoyed as a dipping sauce to BBQ chicken skewers or drizzled inside rice paper wraps filled with either shrimp or chicken and loaded with fresh julienne sliced veggies.
Ingredients:
2 lbs. fresh Salmon
1/3 cups Maisie Jane's Almond Butter
4-6 cloves finely minced garlic
3 tbsp. toasted sesame seed oil
3 tbsp. tamari sauce
2 tbsp. Maisie Jane's Wildflower Honey
1 lemon thinly sliced
1 lemon cut in wedges (for serving)
1 bunch green onions sliced
Directions:
Preheat oven to 400 degrees.
Whisk the almond butter, minced garlic cloves, sesame seed oil, tamari sauce and honey together. Place Salmon on a baking sheet lined with aluminum foil with the skin side down. Brush the mixture evenly over entire salmon. Arrange lemon slices on top and finish off by sprinkling the green onions. Bake for about ½ hour or until your desired cooked wellness. Garnish plates with lemon wedges.  Enjoy!
You can find more of Maisie's favorite almond butter recipes below.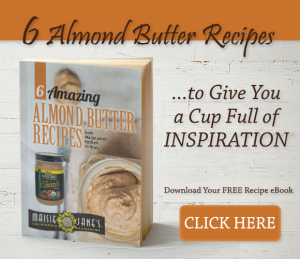 Maisie Jane's California Sunshine Products, Inc. was founded on strong beliefs and passion for offering unique, flavorful, top-quality, nut products. We strongly believe in earth-friendly practices that start on our family owned and operated orchards. We use Organic farming practices and continue in the process by using all natural ingredients with no preservatives or GMOs. We believe in honest, friendly and helpful customer relations at all levels. We take pride in every task, every day, with every person.