How Nut Butter Can Help You Go Gluten-free
Posted on : April 27th, 2018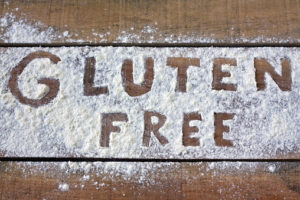 If you're living with celiac disease or gluten sensitivity, navigating the world of what's gluten-free and what isn't can be a frustrating experience. For example, oats are typically gluten-free. But what if those oats are processed in a factory used to process other cereals like wheat? Or what if a product like almond butter is made with additional ingredients that are not gluten-free?
Here at Maisie Jane's we take these concerns seriously. To avoid cross-contamination all our nut butters are made in a wheat-free facility and our almond and cashew butters are made with nothing but dry roasted nuts! No added sweeteners, thickeners, fats or other extra ingredients means that people with multiple sensitivities can rest easy knowing they're getting the purest products money can buy! Not only that, you don't have to worry about anyone in the family with peanut allergies because our facilities are also peanut-free. Furthermore, they're vegan, cholesterol free, dairy free, preservative free, salt free and free of added sugars. And they're kosher-certified and non-GMO verified.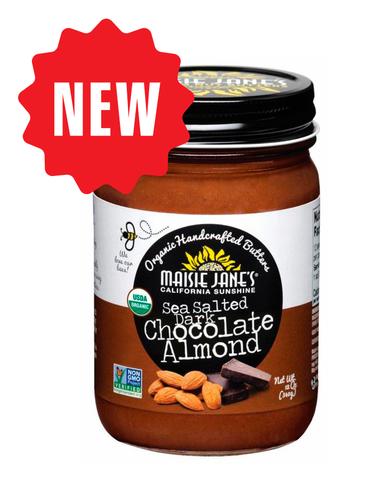 You can't get healthier than that! And they're delicious! But should you want to be a little more decadent, we've got you covered there with some wonderful nut butters with added but still gluten-free ingredients that take the experience of nut butter to that of an art form!
Consider our handcrafted Organic Sea-Salted Dark Chocolate Almond Butter. Made with locally-made silky rich premium organic dark chocolate, just the right amount of Lundberg organic brown rice syrup (also locally-made), and sea salt, this amazing nut butter is an incredible treat. It's a spreadable gourmet choice made to please the most ardent "foodie". Try it on crepes or waffles, drizzle it on a banana, or just eat it with a spoon!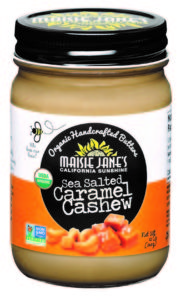 Then there's our Organic Sea-Salted Caramel Cashew Butter—another mouth-watering experience! Made with sea salt, brown rice syrup, and organic dry roasted cashews, this was first created in Maisie's own kitchen and passed the family taste testing with flying colors! Plus the organic brown rice syrup brings out the caramel flavor without any dairy so it's truly a vegan-friendly indulgence as well as gluten-free. Try this as a topping for any manner of sweet treats and breakfast delights.
Are you having fun with being gluten-free yet?
I bet you will now! Hooray!!!!
---
Maisie Jane's California Sunshine Products, Inc. was founded on strong beliefs and passion for offering unique, flavorful, top-quality, nut products. We strongly believe in earth-friendly practices that start on our family owned and operated orchards. We use Organic farming practices and continue in the process by using all-natural ingredients with no preservatives or GMOs. We believe in honest, friendly and helpful customer relations at all levels. We take pride in every task, every day, with every person.