How Almonds Can Help Control Diabetes
Posted on : June 5th, 2018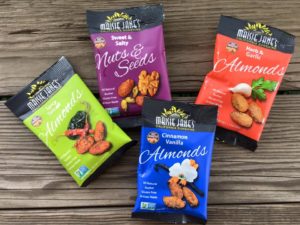 Diabetes has reached epidemic proportions in the United States. As of this writing, it is thought that 29.1 million Americans have the disease and up to 8.1 million may be undiagnosed and unaware of their condition. And it is thought that 1 out of 3 people in this country has pre-diabetes—when blood sugar is higher than it should be but is not quite in the diabetic range. Scarier yet, 9 out of 10 people in this group don't know their blood sugar is too high! Luckily, if you do know you have a problem, most diabetes is Type 2, and that and pre-diabetes can often be helped if not completely controlled with a combination of weight control, exercise and proper nutrition. And the latest research shows that almonds can help in some pretty significant ways.
People with diabetes or pre-diabetes both benefit from choosing a diet low in refined carbohydrates like breads, cereals, rice, pasta, fruits, milk, and sugary desserts and higher in protein, healthy fats and complex carbohydrates like vegetables and whole grains. Almonds are low carb, high in protein, are a good source of fiber and healthy fats, and contain important vitamins and minerals such as vitamin E, magnesium and potassium. All of this makes almonds a great substitute for the typical American high carb, sugary snack!
But the news about almonds and diabetes goes much further than that!
A study from 2011 has shown that almonds may reduce the rise in blood sugar and insulin levels after meals. Just 2 ounces of almonds —about 45 nuts— led to lower levels of fasting insulin and fasting glucose. Of course, it is important to note that the participants in the study reduced their caloric intake by enough to accommodate the addition of the almonds so that no extra calories were consumed.
The magnesium present in almonds is also of significance. Inadequate intake of magnesium is associated with a greater risk in developing diabetes, and people who already have diabetes tend to need more magnesium to offset the amount excreted in the urine due to long-term high blood sugar levels. Eating almonds and products like almond butter can help provide the magnesium needed in your diet in really enjoyable ways.
And that's an important point: a diet that is fun and tasty hardly feels like "dieting" at all!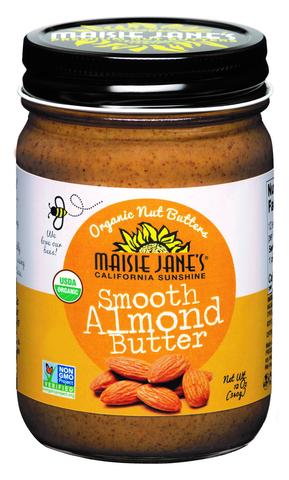 • Add chopped almonds or swirl a little almond butter into your oatmeal in the morning. It will help you feel satisfied and help in stabilizing blood glucose levels for a good part of the day.
• Try one of Maisie Jane's new snack packs with almonds for a delicious right-sized mid-day snack in wonderful flavor combinations like herbs and garlic or spicy tamari!
• Sprinkle almonds into salads, add them to stir-fry or cooked vegetables, or stir them into rice or a whole-grain side dish. You'll be turning an ordinary dish into a gourmet treat!
---
Maisie Jane's California Sunshine Products, Inc. was founded on strong beliefs and passion for offering unique, flavorful, top-quality, nut products. We strongly believe in earth-friendly practices that start on our family owned and operated orchards. We use Organic farming practices and continue in the process by using all-natural ingredients with no preservatives or GMOs. We believe in honest, friendly and helpful customer relations at all levels. We take pride in every task, every day, with every person.