Honey Almond Florentines with Candied Orange (Recipe)
Posted on : February 27th, 2020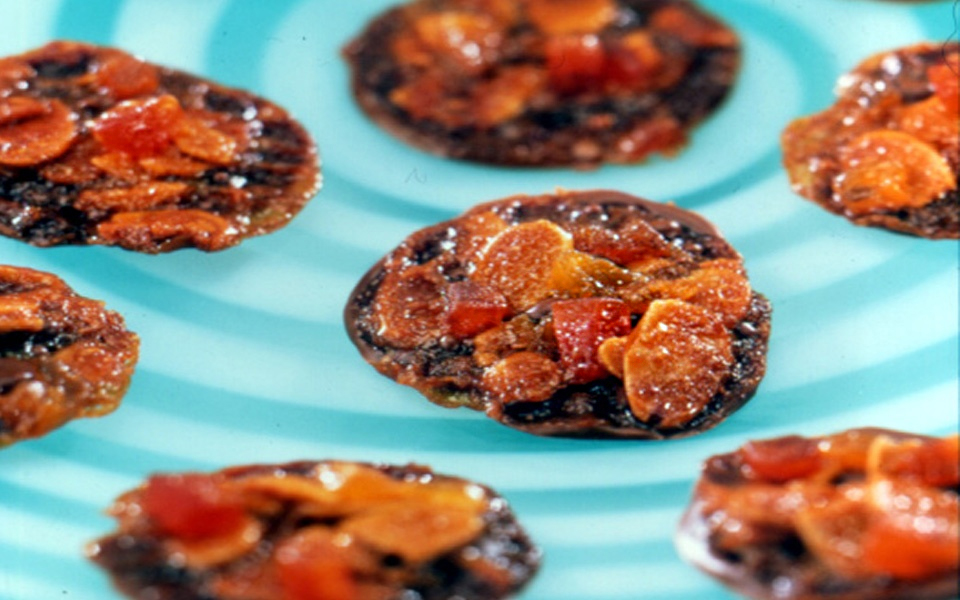 Today for lunch (don't judge me!) I was indulging in my favorite cookie in the world: honey almond florentines! I have a healthy whole grain kale-ridden meal in the microwave, too. But before I made that choice, I thought "Oh, I'll just have one while I making something better to eat." I love the lacey but crunchy almond yumminess with a layer of chocolate so much, I never buy them because they don't last long in my house! I think, "I'll just have one, they're thin!" And then, "Oh, maybe I'll have one for dessert, too. I mean, I was good and ate the kale thing. I deserve a little dessert." And so it goes . . . until they're not allowed to come in the door anymore!
Interestingly, as I sat down with "just one" cookie to write this blog, I thought these are perfect but they'd be even MORE perfect if there was some kind of fruit layer on top. Then I popped over to the Almond Board of California's website and there was a recipe for Honey Almond Florentines with candied orange visible on top!
Oh yes! That's today's recipe for sure! I mean, that coincidence MUST be a sign, right? So here we go! Don't shoot me if you try them. I warned you that they're addicting!
Honey Almond Florentines with Candied Orange
Ingredients
Preparation
Combine sugar, cream and honey in a saucepan. Bring to a boil, stirring, then gently boil to 234°F. (Use a candy thermometer).
Remove from the heat and stir in the almonds, orange peel and flour.
Drop by rounded teaspoonfuls onto a foil-lined cookie sheet. Flatten the cookies slightly. Bake at 325°F for 10 minutes or until they are golden around the edges and cooked in the center.
Cool thoroughly on the foil then peel off and invert on a wire rack.
Melt chocolate in the top of a double boiler or in a small saucepan set in a larger pan of water. Stir in shortening, then spread the mixture over the flat bottoms of the cookies. Make wavy lines in the chocolate with a fork for the classic Florentine look.
Let stand until set, at least 4 hours.
Devour (perhaps with some restraint!)
---
Maisie Jane's California Sunshine Products, Inc. was founded on strong beliefs and passion for offering unique, flavorful, top-quality, nut products. At Maisie Jane's we strongly believe in earth-friendly practices that start on our family owned and operated orchards. We use Organic farming practices and continue in the process by using all-natural ingredients with no preservatives or GMOs. And we believe in honest, friendly and helpful customer relations at all levels. We take pride in every task, every day, with every person.