Honey Almond Butter Chocolate Tart (Recipe)
Posted on : March 16th, 2018
Today's recipe created by Joy Wilson of www.JoyTheBaker.com, for the Almond Board of California looks, omg, amazing! It would make a special dinner all so much more memorable! Imagine a shortbread cookie tart filled with our yummy almond butter combined with honey-sweetened heavy cream and cream cheese. I could stop and say "YES" right there! But then she covers it with homemade dark chocolate ganache—so creamy, chocolatey and delicious. It's like a peanut butter cup tart only so much more special. Enjoy the video where she shows how to make it, check out the ingredients below, and then head on over to our friends at the Almond Board for the full recipe!
INGREDIENTS:
FOR THE CRUST:
1 1/2 cups all-purpose flour
1/2 cup powdered sugar
1/8 teaspoon salt
1/2 cup (1 stick) unsalted butter, cold and cut into cubes
1 large egg
FOR THE FILLING:
1 cup heavy cream
8 ounces cream cheese, softened
1/2 cup almond butter
1/2 cup honey
1/8 teaspoon salt
2 teaspoons pure vanilla extract
FOR THE GANACHE:
6 ounces good-quality dark chocolate, finely chopped
1/3 cup plus 2 tablespoons heavy cream
Pinch of salt
1 teaspoon pure vanilla extract
Sliced almonds for topping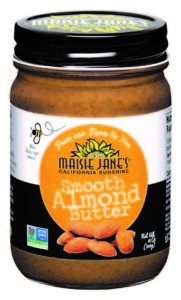 ---
Maisie Jane's California Sunshine Products, Inc. was founded on strong beliefs and passion for offering unique, flavorful, top-quality, nut products. We strongly believe in earth-friendly practices that start on our family owned and operated orchards. We use Organic farming practices and continue in the process by using all-natural ingredients with no preservatives or GMOs. We believe in honest, friendly and helpful customer relations at all levels. We take pride in every task, every day, with every person.