Home in the Almond Grove
Posted on : August 8th, 2019
I came across a country rock song I never heard before recently by a band named Cracker that maybe some of you might know. Cracker was formed by singer-songwriter David Lowery (of Camper Van Beethoven fame) and guitarist Johnny Hickman. On their most recent album, "Berkeley to Bakersfield," is a bittersweet song called "The Almond Grove" about a guy who got into a bad life in the city but is going home to a better place in the almond groves where his family is.
Family is probably what we love best about farming almonds here at Maisie Jane's. We've been growing almonds here in northern California for four generations. Maisie Jane's great grandfather Natalie Bertagna was a gardener in northern Italy before moving to the United States. He got into the almond trade because of that, instilled a love of farming into his son Ben who started volunteering to work in the almond orchards of neighboring farmers at the age of twelve. By the time he was seventeen he had saved enough to buy his first 20 acres of almond trees. His son, Ben Jr. (Maisie Jane's father) was working in the almond orchards with his brothers as soon as he could walk. And Maisie Jane herself got her start in almonds as a teenager doing a FFA (Future Farmers of America) Project.
Today you're likely to see Maisie Jane, her husband Isidro, and their three children working side by side in the fields or at the country store along with Maisie's mom Mary Jane Bertagna and aunt Bobby Henry. They love living the family farming lifestyle, and hope to instill a passion for agriculture in a fifth generation. May they always feel like the almond groves are home!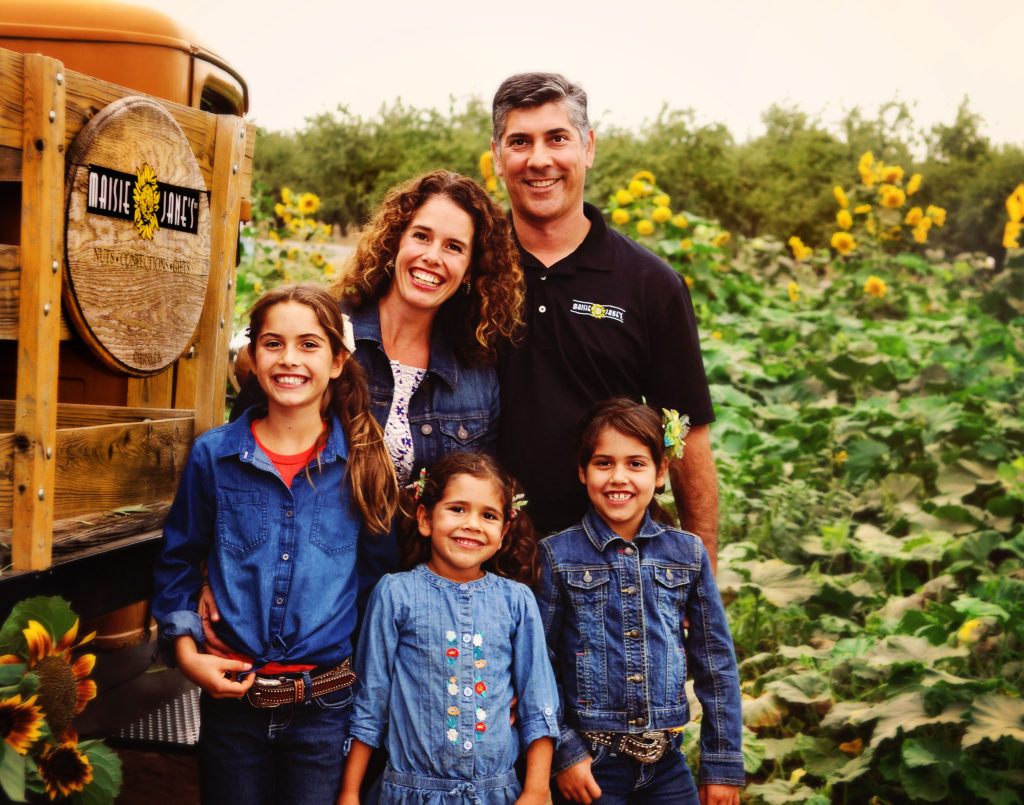 ---
Maisie Jane's California Sunshine Products, Inc. was founded on strong beliefs and passion for offering unique, flavorful, top-quality, nut products. We strongly believe in earth-friendly practices that start on our family owned and operated orchards. We use Organic farming practices and continue in the process by using all-natural ingredients with no preservatives or GMOs. We believe in honest, friendly and helpful customer relations at all levels. We take pride in every task, every day, with every person.