Holiday Gift Basketss
Posted on : November 20th, 2020
This holiday season, give a gift that the whole family can enjoy together.
At Maisie Janes we take pride in knowing that what our family loves doing, yours can love eating!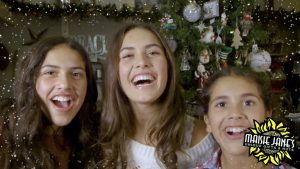 One of our favorite parts of this time of year is creating our holiday gift baskets! We feature yummy seasonal favorites that we know you'll love!  This year we have created thirteen new basket bundles of all kinds. From your grandma to your significant other, to your adventurous friend, we've got you covered. 
Feeling inspired by all that you see? We make custom baskets to meet your needs too! Our wonderful basket makers are magicians with ribbons, and happen to be lead by none other than Mary Jane Bertagna, Maisie's mother! Many other talented ladies contribute to our team, hand picking items just for you and putting their own artistic flare on each basket. We truly care about giving you a memorable and delicious gift.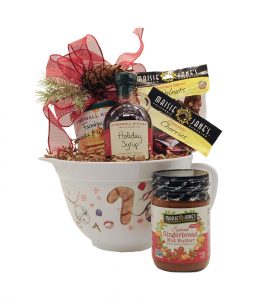 Maybe you have a breakfast lover in the family who would adore our Holiday Batter Bowl featuring our limited edition Spiced Gingerbread Nut butter (on sale through December 31st), Cinnamon Glazed Walnuts, and Chocolate Cherries. Or you have a foodie friend who would love our Foodie Adventure Pack that comes with Bobo's Almond Oat Bars using Maisie Jane's almond butter, and lots of other goodies for an epic hike. SO many baskets to choose from, the only problem will be picking which one!
So go ahead and check another item off your list, grab one of Maisie Jane's Holiday gift baskets at our store or online today!
Our Black Friday/ Cyber-Monday sale gets you 20% off Tuesday 11/24- Monday 11/30  on all gift baskets, gift rounds, and gift flats!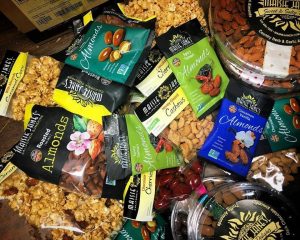 Maisie Jane's California Sunshine Products, Inc. was founded on strong beliefs and passion for offering unique, flavorful, top-quality nut products. We embrace earth-friendly practices that start on our family-owned and operated orchards. We use organic farming practices and continue in the process by using all-natural ingredients with no preservatives or GMOs. We believe in honest, friendly and helpful customer relations at all levels. We take pride in every task, every day, with every person.