Heartwarming Meal Gift Baskets for Christmas from Maisie Jane's!
Posted on : December 12th, 2017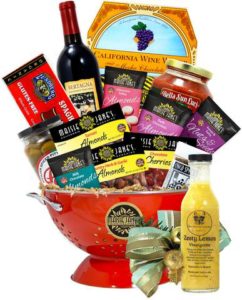 It's Gift Basket Season! But which one to choose? We offer so many wonderful gift baskets at Maisie Jane's some of our customers wander our store for what seems like hours picking the best ones! Of course, that's fun for them to do because there are so many delightful things to look at and tasty samples and hot cider to enjoy while looking. And our awesome staff is always delighted to help! But you're reading this online so for the last few posts I've been sharing a few possibilities for you to consider.
I can't go through ALL our gift basket choices in one blog post, so today I thought I'd write about one of my very favorite ideas—the one I'd love to receive: a basket full of everything I need to make a wonderful meal with ingredients I might not have thought to buy for myself!
First, though, a few dates to keep in mind!
December 18 — Last day to guarantee delivery by Christmas for your online purchases
December 21—Last day to place online orders for  local, Chico Store Pickup
December 23 – Last day for local, Chico Store Pickup
Meal Gift Baskets from Maisie Jane's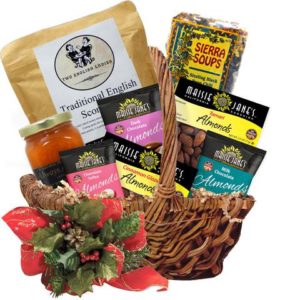 A Cozy Winter's Dinner
Nothing warms me up more in the winter than a nice hot bowl of soup—I make some almost every week! But pair that up with homemade scones, jam and a variety of Maisie Jane's nut treats, and the mundane becomes a special treat! Included is locally made Two English Ladies Scone Mix, Mountain Fruit Jam, and Sierra Soup Mix along with Maisie Jane's Cinnamon Glazed, Tamari, Dark, Milk, and Chocolate Toffee Almonds.
Small Wooden Salad Bowl
Well, this isn't quite everything for a dinner—you'll have to buy the salad greens and other vegetables yourself—but what a wonderful mix of additional ingredients in one of the nicest looking wooden salad bowls I have seen! It is the perfect size for a couple, a small family, or for you and your special guests and is made from Acacia hard wood with matching 'bear claw' salad tongs. The bowl is filled with Antelope Creek Farms Pomegranate Vinegar, Butte View Ascolano Extra Virgin Olive Oil, Better Than Brittle Soft Peanut Brittle, and one of my favorite assortments of flavored and chocolate almonds: Country Herb and Garlic, Orange and Spice, Milk Chocolate and Chocolate Toffee Almonds.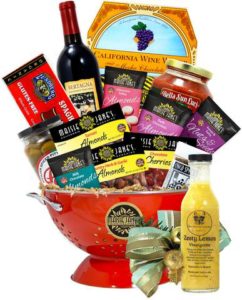 Natalia Sofia's Italian Dinner
Last week I mentioned our Deluxe Italian Dinner Gift Basket, which is delightful, but my very favorite meal-based gift basket is Natalia Sofia's Italian Dinner! It features a large, colorful pasta colander filled with so many wonderful things:  Penna Sicilian Olives, Mooney Farms Pasta Sauce, Lundberg Farms Rice Pasta,Two English Ladies Zesty Lemon Vinaigrette, Bertagna Son Kissed Vineyards Sangiovese wine, Wine Wafers, Chico Spice's Garlic & Herb blend, Maisie Jane's Country Herb & Garlic Almonds, Tamari Almonds, Chocolate Cherries, Dark Chocolate Almonds,Chocolate Toffee Almonds, Milk Chocolate Almonds, and Sweet & Salty Nuts and Seeds mix. Everything you need for a magnificent Italian feast!
Don't forget: the last day to guarantee shipping by Christmas for online purchases is just one week away! Shop for your favorite gift baskets online now!
---
Maisie Jane's California Sunshine Products, Inc. was founded on strong beliefs and passion for offering unique, flavorful, top-quality, nut products. We strongly believe in earth-friendly practices that start on our family-owned and operated orchards. We use organic farming practices and continue in the process by using all-natural ingredients with no preservatives or GMOs. We believe in honest, friendly and helpful customer relations at all levels. We take pride in every task, every day, with every person.