Happy National Honey Bee Day!
Posted on : August 15th, 2019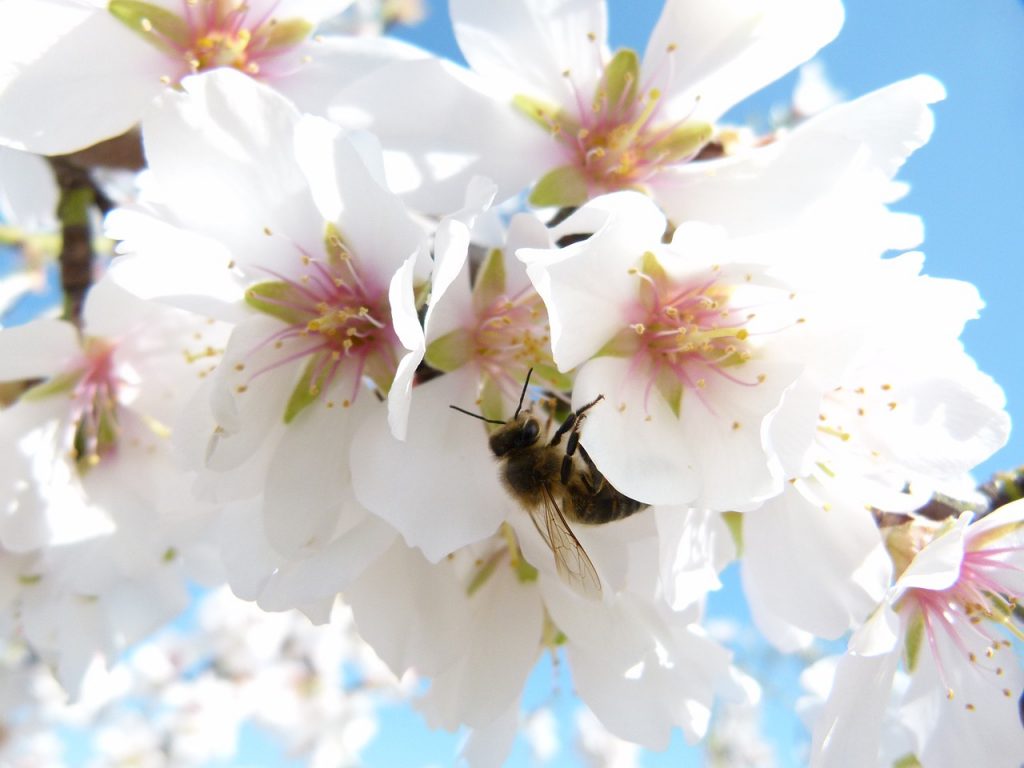 National Honey Bee Day is Saturday, August 17. The USDA designated the third Saturday in August an official "awareness" day about 10 years ago to recognize the importance of our bees and the beekeepers who tend them. What's the buzz all about?
Well, did you know that, according to the U.S. Department of Agriculture, these furry insects pollinate 80 percent of our flowering crops? That's about one-third of everything we eat! And that includes nuts, of course. The health of our bees is vitally important.
We're serious about bees at Maisie Jane's.
That's why we take pains to create a healthy bee habitat in our orchards. For example, we leave part of the orchards' natural grasses in place rather than chopping them down. We also have planted native bushes and plants along the creek that serves as a border to one side of our organic almond orchard. This was done to attract the bees and create safe forage areas for them in a place without pesticide and chemical exposure.
We do often need to bring bee hives in to assist during almond pollination season, but we make sure those are local bees as well. We don't freight hives across the country to arrive our farm. In recent years we've seen too many instances of colony collapse. We do not know how much moving the bees over long distances is contributing to the problem. But doesn't it stand to reason that the colonies might be weakened and more susceptible to disease because of the stress involved in that? Why chance it when our local bees will do the trick?
Supporting Bee Research
We are proud to support the Xerces Society for Invertebrate Conservation. Their mission is to protect wildlife through the conservation of invertebrates and their habitat. What is particularly interesting about this organization is that they are a science-based conservation organization that works with scientists and a wide variety of land managers, educators, policymakers, farmers, and citizens. They focus on habitat conservation and restoration, species conservation, protecting pollinators, contributing to watershed health, and reducing harm to invertebrates from pesticide use. Check out www.xerces.org.
Maisie Jane's also is partnering with The Harry H. Laidlaw Jr. Honey Bee Research Facility on Bee Biology Road, University of California, Davis. They are the largest and most comprehensive state‐supported agriculture facility in North America and the only one in California. They provide leading cutting‐edge research focusing on bee biology and genetics and international concerns about bee health. We have partnered using their resources in planting special flower mixes in our orchards that offer additional honey bee food in efforts to increase the native honey bee population.
Would you like to help?
Support us, we'll donate towards bee research! You can go to any Whole Foods market nation-wide, purchase any 12oz. jar of our delicious Almond butter, and we'll donate $.05/jar towards bee research.
Plant native plants in your own yard and garden and don't use pesticides there. This will give the bees safe foraging areas and good nutrition.
Buy organic! Organic farming practices are more likely to be "bee friendly" than conventional practices.
Spread the Word! The more 'buzz' about the bee crisis, will raise the awareness and make people more responsible in their personal choices in their home gardens or landscape, as well as their political choices that could affect the future of bees and our food supply.
---
Maisie Jane's California Sunshine Products, Inc. was founded on strong beliefs and passion for offering unique, flavorful, top-quality, nut products. We strongly believe in earth-friendly practices that start on our family owned and operated orchards. We use Organic farming practices and continue in the process by using all-natural ingredients with no preservatives or GMOs. We believe in honest, friendly and helpful customer relations at all levels. We take pride in every task, every day, with every person.