Halloween Party Treats from Maisie Jane's
Posted on : October 19th, 2017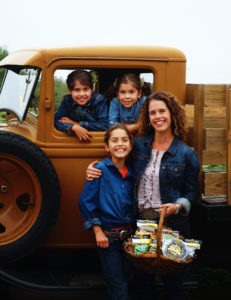 Have you ever visited Maisie Jane's Country Store? If you live near Chico, CA or plan to visit, come on by! It's a sweet little farmhouse at 1324 Dayton Road and right now we're completely decked out for Halloween! And since Halloween is right around the corner, why not pick up some great goodies for your coming Halloween party? (Or buy them online and have them delivered!)
Here are some of my top picks: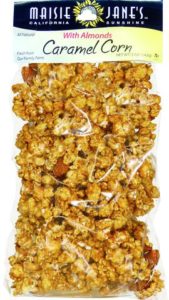 A local favorite, no Halloween party is complete without caramel corn! And the addition of roasted caramel almonds makes this a particularly indulgent treat. Here at Maisie Jane's we bake it fresh weekly, guaranteeing it will be crunchy and delicious!
INGREDIENTS: Popcorn, California Almonds, Raw Brown Sugar, Butter, Vanilla, Salt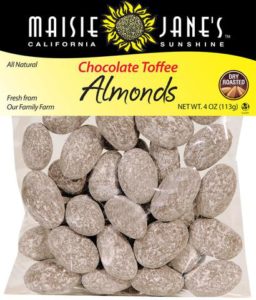 Actually any of Maisie Jane's Chocolates belong at the table but this is my favorite: rich chocolate around a roasted almond, surrounded by a layer of scrumptious buttery toffee, and finished with a dusting of powdered sugar. Wow!
INGREDIENTS: Milk Chocolate (Sugar, Whole Milk, Cocoa Butter, Chocolate Liqueur, Lecithin [an Emulsifier], Pure Vanilla), Dry Roasted California Almonds, Sugar, Tapioca Dextrin, Butter, Salt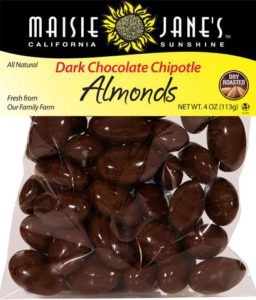 Prefer something a little more daring? (It's Halloween, after all!) This combination of the finest dark chocolate and spicy Chipotle is surprisingly good! Don't worry—they're not TOO spicy—just the right amount of 'heat' to wake up your senses at the end.
INGREDIENTS: Dark Chocolate (Cacao Beans, Cane Sugar, Cocoa Butter, Soy Lecithin, Pure Vanilla), Dry Roasted California Almonds, Cane Sugar, AA Grade Butter (Cream, Salt), Cocoa Powder, Salt, Dried Chiles, Corn Syrup, Tapioca Dextrin, Confectioner's Glaze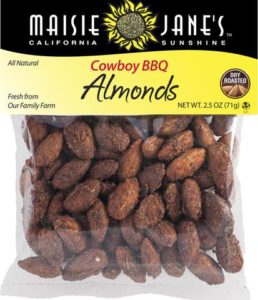 Of course, we need sweets at Halloween but what's a party without a few savory choices, too? Try this one: dry roasted California almonds, deeply coated with knock your socks off flavor! A little spicy, but not too much, just enough to make you come back for more!
INGREDIENTS: Dry Roasted California Almonds, BBQ Spiced Blend, Egg White, Dehydrated Cane Juice, Salt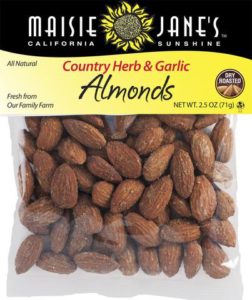 Another awesome savory choice you won't be able to stop eating,  almonds combined with our special garlic and herb blend are really that good! Two Old World favorites, California almonds and garlic, are joined together for an unforgettable taste sensation.
INGREDIENTS: Dry Roasted California Almonds, Egg White, Garlic Seasoning, Dehydrated Cane Juice, Salt
---
Maisie Jane's California Sunshine Products, Inc. was founded on strong beliefs and passion for offering unique, flavorful, top-quality, nut products. We strongly believe in earth-friendly practices that start on our family owned and operated orchards. We use Organic farming practices and continue in the process by using all-natural ingredients with no preservatives or GMOs. We believe in honest, friendly and helpful customer relations at all levels. We take pride in every task, every day, with every person.