Gluten-free Flourless Honey Almond Cake for Easter and Passover (Recipe)
Posted on : March 28th, 2018
My mom used to make a Honey Almond cake like this every year for Easter. Her recipe is gone with the wind, unfortunately, so I looked around the internet for something similar. This recipe from Eating Well Magazine caught my eye. It uses almonds instead of traditional flour which makes it appropriate for both Easter and Passover (which come at the same time this year). It is also gluten-free for the same reason.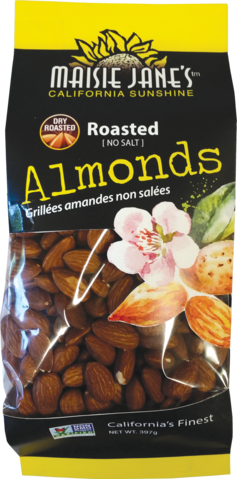 Use Maisie Jane's Roasted Unsalted Almonds and you can skip the part of the video recipe that suggests toasting them in the oven. It helps to have a food processor but my mom always used her blender. That makes this recipe super easy and fast to make. My mom didn't use parchment paper. She always used the bottom of the springform pan as a serving dish. But feel free to do as you like! One thing to be very careful about, however,  is not to overbeat the egg whites. The recipe says they should be white and foamy, but not at all stiff or able to hold peaks. If you overbeat them the cake might sink in the middle as it cools. I guess that explains one of my mother's so-called kitchen disasters one year. She disguised the mistake with whipped cream cheese mixed with honey and sprinkled the sliced almonds artistically over that. It didn't seem like much of a mistake to me!
Ingredients
1½ cups whole almonds, toasted

4 large eggs, at room temperature, separated

½ cup honey

1 teaspoon vanilla extract

½ teaspoon baking soda

½ teaspoon salt

¼ cup sliced almonds
See Eating Well's recipe for all the details!
---
Maisie Jane's California Sunshine Products, Inc. was founded on strong beliefs and passion for offering unique, flavorful, top-quality, nut products. We strongly believe in earth-friendly practices that start on our family owned and operated orchards. We use Organic farming practices and continue in the process by using all-natural ingredients with no preservatives or GMOs. We believe in honest, friendly and helpful customer relations at all levels. We take pride in every task, every day, with every person.