Gift Baskets from Maisie Jane's for the Holidays
Posted on : November 14th, 2019
If your family is like mine, it's not at all early for thinking about what to bring or send to folks for the holidays. In my family we have a big Thanksgiving and everyone brings either a dish for dinner or fun snacks for eating while watching the big game together. Don't know what to bring? Gift baskets from Maisie Jane's are the perfect thing! Here are just a few of our many offerings!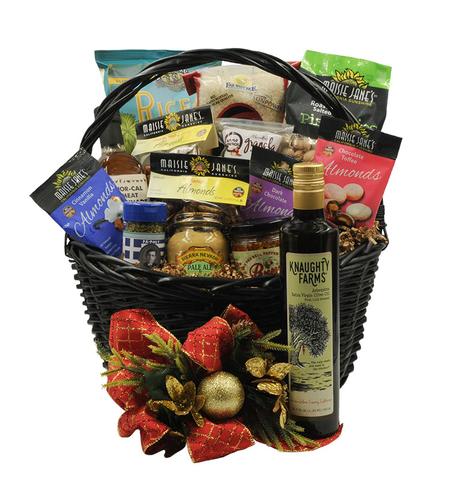 Taste of Nor Cal Gift Basket
This year one of our most popular gift baskets is on sale! Our Taste of Nor Cal Gift Basket features goodies from a wide variety of local NorCal farmers to add to the holiday meal as well as for snacks. And now through Nov. 26 it's 15% off! It includes Far West Rice, Lundberg Farms Rice Chips, Nor Cal Meat Marinade, Knaughty Farms Arbequina Olive Oil, Penna Olive Red Bell Pepper Spread, Sierra Nevada Mustard, Pa-Pau's Greek Oregano, Atheen Oats, Maisie Jane's bulk bag Roasted Salted Pistachios, Country Herb & Garlic Almonds, Tamari Almonds, Chocolate Toffee Almonds, Dark Chocolate Almonds, and Cinnamon Vanilla Almonds.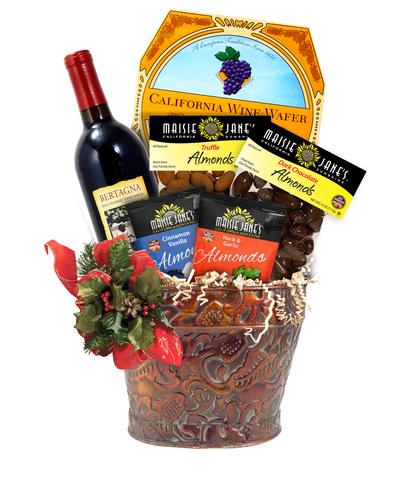 The Perfect Wine Basket
The Perfect Wine Basket is one of my favorite things to bring to a holiday party. Who doesn't like wine and snacks especially selected to go with it? This attractively decorated pail includes Bertagna Son Kissed Vineyard's Barbera Wine, California Wine Wafers, Maisie Jane's Cinnamon Vanilla Almonds, Country Herb & Garlic Almonds, Dark Chocolate and Chocolate Truffle Almonds.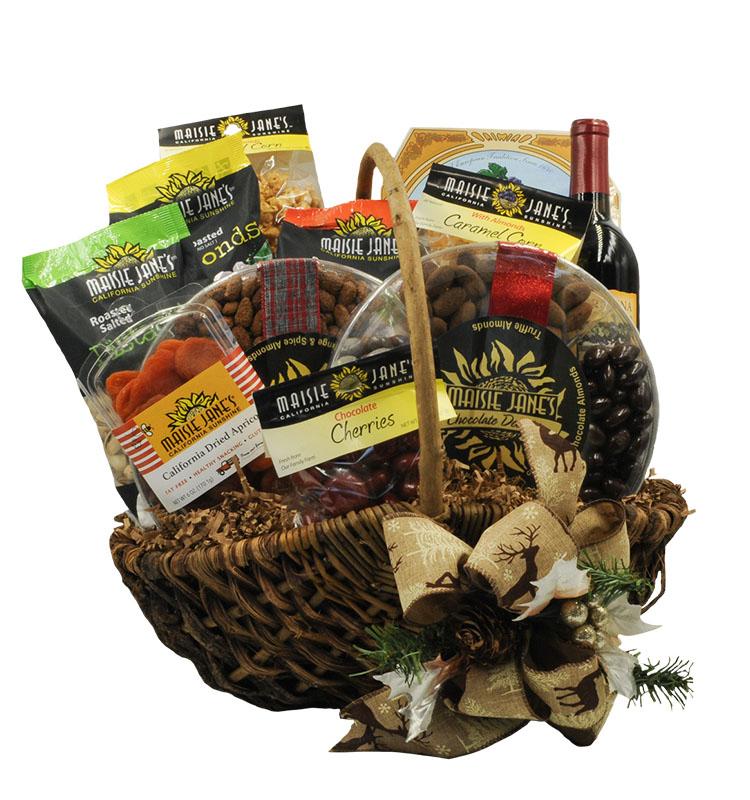 Family Fun or Office Enjoyment Basket #3
Need a large basket filled with enough ready-to-eat treats to feed a crowd? The Family Fun or Office Enjoyment Basket #3 ought to do the trick! This basket is a gorgeous classic! It's decorated with a lovely bow and filled with Bertagna Son Kissed Vineyard's Sangiovese Wine, Wine Wafers, Maisie Jane's Large Chocolate Delight Nut Round, Large Sweet & Salty Nut Round, Two bags of Caramel Corn & Almonds, Maisie Jane's Bulk Value Bag of Roasted Almonds, and Roasted Salted Pistachios, Roasted Salted Cashews, Chocolate Cherries, and Maisie Jane's California dried Apricots.
And these baskets are just a tiny selection of what we have available! Check out our online store for many more.
---
Maisie Jane's California Sunshine Products, Inc. was founded on strong beliefs and passion for offering unique, flavorful, top-quality, nut products. At Maisie Jane's we strongly believe in earth-friendly practices that start on our family owned and operated orchards. We use Organic farming practices and continue in the process by using all-natural ingredients with no preservatives or GMOs. And we believe in honest, friendly and helpful customer relations at all levels. We take pride in every task, every day, with every person.