Gift Baskets All Year Round from Maisie Jane's
Posted on : October 18th, 2018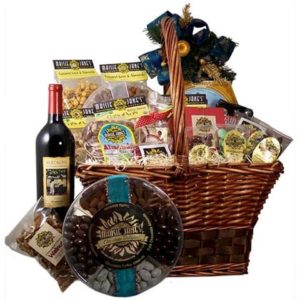 Almost everyone knows that Maisie Jane's is the place to shop for the most wonderful selection of gourmet gift baskets for Holiday season gift-giving. Filled with curated groupings of Maisie Jane's nut products and a wide assortment of delightful offerings from other local farmers and artisans, a beautifully decorated gift basket from Maisie Jane's is sure to please everyone on your list. But did you know that our gift baskets, gift boxes, gift crates and rounds are available all year round?
They certainly are!
Need something special as a thank-you for a job well done? How about a birthday or anniversary surprise, office party, or family gathering? Maisie Jane's is the place to shop and you don't even have to live near Chico or pick it up at our store. Pick out what you like online and we will deliver it for you with a season or occasion-appropriate ribbon and a special note—just let us know how we can help! And with SO many different ideas to choose from, you're certain to find the perfect gift.
Here's what a couple of our happy customers had to say recently:
I was fortunate to have won a gift basket from Maisie Jane's Gift Shop at my 50th class reunion. The food assortment was delicious. The nuts were so fresh! The wine very tasty! Thank you so much for an awesome prize! San Leandro Pirates, thank you too! — Tina Craver

I use Maisie Jane's Gift Shop for all my Corporate gift baskets at work! I have never once been disappointed with their service or products! I love that they use local products and promote our farmers, ranchers, and artisans. And our customers and vendors who receive the gift baskets are always thrilled! If you are looking for a personal touch for your professional gifting needs – this is the place to go! Thanks, Maisie Jane's, for making my job easy! —Heather Reed
Check out our online store! It's so fun and easy—just put your feet up, relax, and enjoy picking the perfect gift! Afraid you won't be able to decide? No problem!  Get a gift card and let them pick exactly what they'd like!
---
Maisie Jane's California Sunshine Products, Inc. was founded on strong beliefs and passion for offering unique, flavorful, top-quality, nut products. We strongly believe in earth-friendly practices that start on our family owned and operated orchards. We use Organic farming practices and continue in the process by using all-natural ingredients with no preservatives or GMOs. We believe in honest, friendly and helpful customer relations at all levels. We take pride in every task, every day, with every person.