Get Ready for Your Halloween Party at Maisie Jane's
Posted on : October 22nd, 2019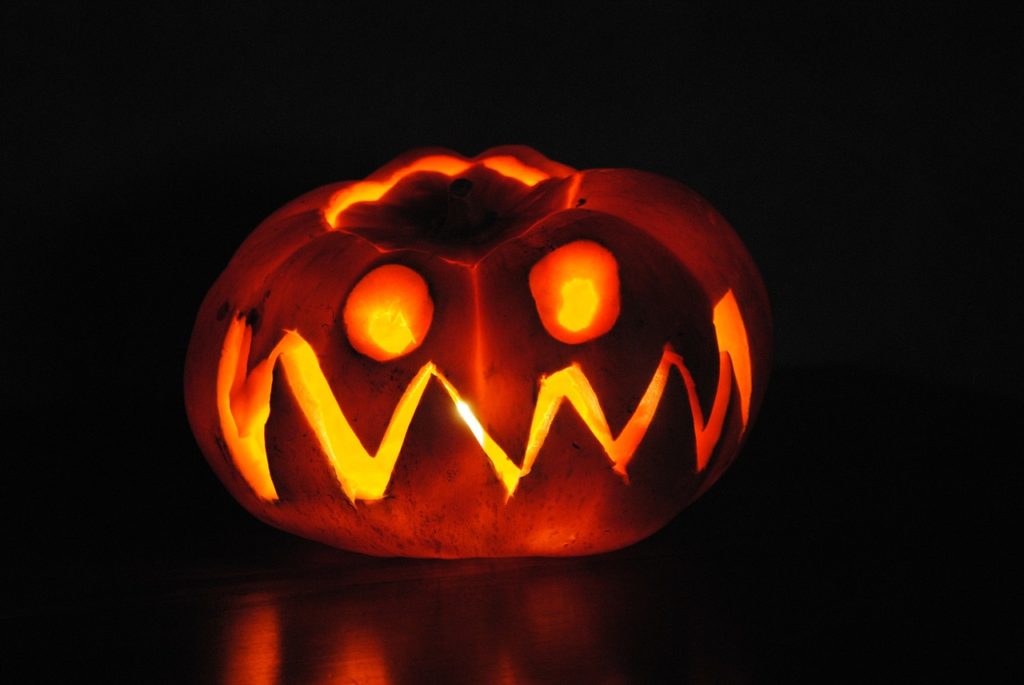 Are you planning a party? Well, then, head on over to our sweet country store at 1324 Dayton Road in Chico, CA and have some fun! Did you know that the Maisie Jane's gift shop is stocked with the most fun Halloween decorations you'll ever see? And there are so many locally made gourmet treats (and wine) you won't believe your eyes! You could even pick up a pie! And if you're not local (or just don't have time), see what treats we have online to make your Halloween party delicious! The selection is enormous!
My favorite way to make a party fun for me is to have big bowls of party snacks that are great for all ages! No fussing in the kitchen—put the bowls out, keep them filled, and just have fun. And the perfect ways to fill those bowls just happen to be a Maisie Jane's specialty. I'm going to point out a few of my favorites below but be sure to check out our online store to find LOTS more.
Must-Have Party Snacks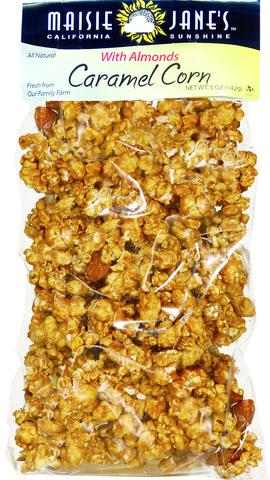 Seriously, is it even Halloween without caramel corn? And this version is the BEST! Made with the "real stuff," we bake our caramel corn fresh weekly, guaranteeing an amazingly crunchy and tasty treat! And the addition of roasted caramel almonds make it even more awesome! It's delicious and a true local favorite.
INGREDIENTS: Popcorn, California Almonds, Raw Brown Sugar, Butter, Vanilla, Salt
Flavored Nuts
Don't you just love savory or spicy flavored snacks along with the sweet treats every Halloween party needs to have? Maisie Jane's has you covered with large bags of flavored nuts that your guests will just love.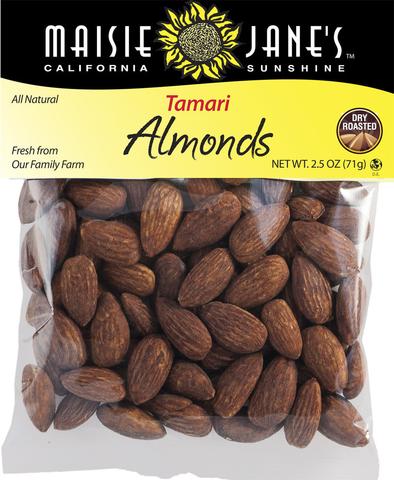 Tamari is a naturally brewed soy sauce that provides a lightly salty taste without the salt! These were one of the first almond snacks we ever offered and they are still going strong because they are just so good.
INGREDIENTS: Dry Roasted California Almonds, Tamari Sauce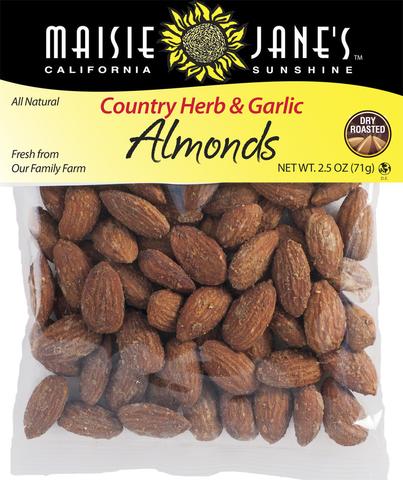 Do you love Chex Party Mix? I do and there are lots of easy recipes on the internet to choose from should you want to make your own. My favorite version is full of herbs and garlic, and every time I snack on Maisie Jane's Herb & Garlic Almonds I think how perfect they would be added to a Chex Mix recipe. But they're pretty awesome on their own! And with a glass of Carbernet in one hand and these nuts in the other, you have it made!
INGREDIENTS: Dry Roasted California Almonds, Egg White, Garlic Seasoning, Dehydrated Cane Juice, Salt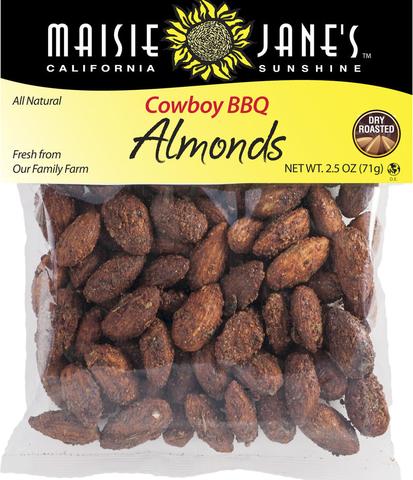 Prefer a more "robust" snack (meaning LOTS of flavor with a hint of hot)? Prepare to whoop it up after you grab a handful of our Cowboy BBQ almonds and pop them into your mouth! Ya-hoo!!!
INGREDIENTS: Dry Roasted California Almonds, BBQ Spiced Blend, Egg White, Dehydrated Cane Juice, Salt
Chocolate Treats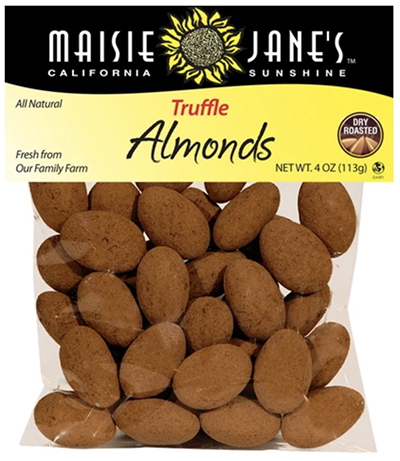 YUM!!! That's all I really want to say—these are SO delicious! "A smooth chocolate sensation with a nutty crunch" is how these sweet treats are described on our website but they really have to be tasted because they're great! They are coated with a generous amount of dark chocolate and dusted with cocoa powder and the combination is just right.
INGREDIENTS: Dark Chocolate (Sugar, Chocolate Liqueur [Processed with Potassium Carbonate], Cocoa Butter, Butter Oil, Lecithin [an Emulsifier], Pure Vanilla), Dry Roasted California Almonds, Sugar, Cocoa Powder (Processed with Potassium Carbonate), Tapioca Dextrin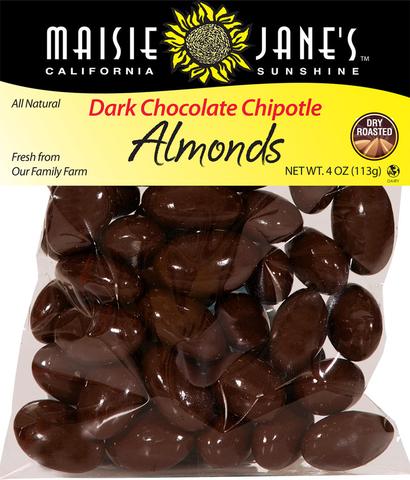 Want something a little more "devil-ish" for your Halloween party? Of course, you do! This unique combination of a supreme dark chocolate and spicy Chipotle is surprisingly delicious! They are not too spicy— your guests won't run home screaming. But there is a 'heat' that hits you at the end. Give it a try!
INGREDIENTS: Dark Chocolate (Cacao Beans, Cane Sugar, Cocoa Butter, Soy Lecithin, Pure Vanilla), Dry Roasted California Almonds, Cane Sugar, AA Grade Butter (Cream, Salt), Cocoa Powder, Salt, Dried Chiles, Corn Syrup, Tapioca Dextrin, Confectioner's Glaze
Can't decide? I know I can't even as I'm writing this blog post! (I like them all!) So, in the spirit of making things EASY, I suggest checking out our super popular selection of "nut rounds". Designed for simple and much appreciated gift giving, these selections are really perfect for parties. You get a variety of different Maisie Jane's savory or sweet nuts (or a combination) in a ready to serve clear plastic tray. SO convenient and enticing! Get several and place them all around!
---
Maisie Jane's California Sunshine Products, Inc. was founded on strong beliefs and passion for offering unique, flavorful, top-quality, nut products. We strongly believe in earth-friendly practices that start on our family owned and operated orchards. We use Organic farming practices and continue in the process by using all-natural ingredients with no preservatives or GMOs. We believe in honest, friendly and helpful customer relations at all levels. We take pride in every task, every day, with every person.