Frozen Almond Butter and Gingersnap Crust Pie
Posted on : August 7th, 2018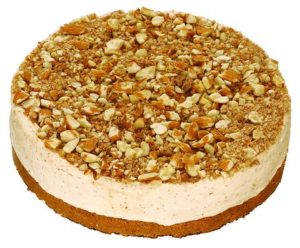 Did you know that Maisie Jane's sells the best homemade pies in town? Yes! Auntie's Almond Butter Pie, Chocolate Hazelnut Creme Pie, Chocolate Truffle Cheesecake and three different kinds of ice cream pie. (My favorite is the Java Crunch.) If you live near Chico, CA come on by our sweet little country store at 1324 Dayton Rd. and see what we have in stock. OR if you want to make sure we have your favorite on hand for a special occasion, give us a call at 530-809-2436 to place an order to pick up in-store later.
Unfortunately, we can't ship our pies! Imagine the mess an ice cream pie would be on arrival on a hot summer day. And, I'm sorry, but I can't seem to bring myself to give away our secret recipes online. But I found a recipe from our friends at the Almond Board of California that caught my eye so I'm going to share my variation on that with you today.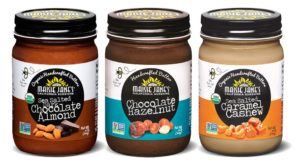 Probably the favorite pie we sell at Maisie Jane's is Auntie's Almond Butter Pie, made with our premium almond butter in the crust, filling and topping! When I went looking for almond butter pie recipes to share I couldn't find anything quite like it but, it being summer, the Almond Board's Frozen Almond Butter Pie made with a gingersnap cookie crust looked VERY intriguing. Their original recipe calls for it to be served with chocolate or caramel sauce dribbled on top with sliced bananas. But I know something way better! Our Organic Sea Salted Dark Chocolate Almond Butter or our Chocolate Hazelnut Butter, maybe even our Organic Sea Salted Caramel Cashew Butter, too. Any of those would be great with sliced bananas, more decadent, and maybe even a little better for you, too.
Frozen Almond Butter Pie with Gingersnap Cookie Crumb Crust
This recipe will make one 9″ pie. A food processor would help with making the cookie crumb crust but in a pinch you could put the finely chopped roasted almonds and gingersnaps in a strong plastic bag and crush them with a hammer!
INGREDIENTS:
PREPARATION:
Place the finely chopped roasted almonds and cookies in a food processor and lightly pulse until crushed to fine crumble.
Pour into a medium bowl with almond butter and stir until well combined. Press into a 9-inch pie pan.
Carefully spoon 3 cups of ice cream on top.
In the bowl the cookie mixture was mixed in, combine remaining 1 cup of ice cream with almond butter and stir until just combined. Don't over-stir—you want it to keep its volume and remain fluffy. Spoon evenly over pie.
Top with chopped, toasted almonds for decoration, if desired. Cover and freeze 4 hours or until very firm.
At serving time, drizzle your favorite flavored nut butter (or chocolate or caramel syrup) over the ice cream and top each slice with banana slices.
---
Maisie Jane's California Sunshine Products, Inc. was founded on strong beliefs and passion for offering unique, flavorful, top-quality, nut products. We strongly believe in earth-friendly practices that start on our family owned and operated orchards. We use Organic farming practices and continue in the process by using all-natural ingredients with no preservatives or GMOs. We believe in honest, friendly and helpful customer relations at all levels. We take pride in every task, every day, with every person.