From Yuck! to YUM! with Nut Butters
Posted on : August 10th, 2020
We all say want to eat better. More fiber, more vitamins and minerals, fewer simple carbs and processed foods. But…some of us just don't dig green veggies.

The struggle has been real, until now. Because there are so many amazing things you can do with Maisie Jane's Nut Butters that taste great and are good for you.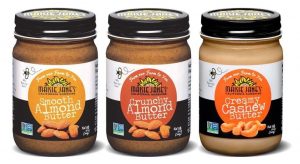 Blood sugar issues? Almond butter can help stabilize it, while cashew butter is a blood builder. And if you need an anti-oxidant boost, cashew butter is rich in a wide range of nutrients and beneficial plant compounds; eating it regularly can result in improved nerve and muscle function, immunity and heart health. Crave sweets? Naturally sweet-tasting nut butter to the rescue!
Try these great ways to enjoy what's good for you AND tastes good too. 
Green Smoothie with Kale and Almond Butter
Yes, they are green and they're consumed by people who wear yoga pants all day long. But when you drink green smoothies prepared with nut butters, you will not only not feel deprived…you'll look forward to them as a special treat. This one even has the "mouth feel" of a milkshake.
Chop 3 large kale leaves (you can remove the fibrous ribs, but in a high-powered blender I use the whole thing).
Blend with 1 tablespoon of Maisie Jane's Organic Smooth Almond Butter, ½ cup of unsweetened almond milk, one whole frozen banana (or any sweet fruit you like; I keep stone fruits and berries in the freezer just for this purpose), half a can of unsweetened peaches or pineapple chunks.
The fruit and almond milk provides the sweetness and coolness, the kale provides what kale provides (you'll barely taste it), and the almond butter gives you protein and creaminess.
If you like your smoothie thicker, use less almond milk.
Cashew Butter Non-Fondue
Dip raw fruits (sliced apples, pears or banana chunks) or veggies (carrots and celery sticks, jicama spears) into single-portion ramekins of Maisie Jane's one-ingredient, smooth and sweet Creamy Cashew Butter. Maisie Jane's was declared a taste test winner for Best Cashew Butter by Good Housekeeping magazine. 
For a little cheat treat, try this with our new handcrafted sea-salted dark chocolate almond butter.
Vegan, Greek Style Stuffed Zucchini with Crunchy Almond Butter
Enjoy the bounty of summer squash or green zucchini with the great taste and nutrition of almond butter. Start by boiling two large zucchini for five minutes. When they cool, cut them in half lengthwise and hollow out the centers. Preheat your oven to 375 degrees. Next, prepare the filling: mince one clove of garlic and half a medium sized onion; brown in a little olive oil and add them to a cup of fresh (or canned, drained) diced tomatoes, dried herbs of your choice to taste (I like parsley and mint, but oregano would work well too); a pinch of nutmeg, and a half cup of almond butter in a mixing bowl. Mix well. Spoon the mixture into the four zucchini boats, place mixture-side up in a lightly-greased baking dish, and bake for 30 minutes. Top with a few sprinkles of nutritional yeast or vegan "cheese" shreds. Opa!
_______________________________________
Maisie Jane's California Sunshine Products, Inc. was founded on strong beliefs and passion for offering unique, flavorful, top-quality nut products. We embrace earth-friendly practices that start on our family-owned and operated orchards. We use organic farming practices and continue in the process by using all-natural ingredients with no preservatives or GMOs. We believe in honest, friendly and helpful customer relations at all levels. We take pride in every task, every day, with every person.