Five Spice Apple and Almond Wontons (Recipe)
Posted on : November 12th, 2019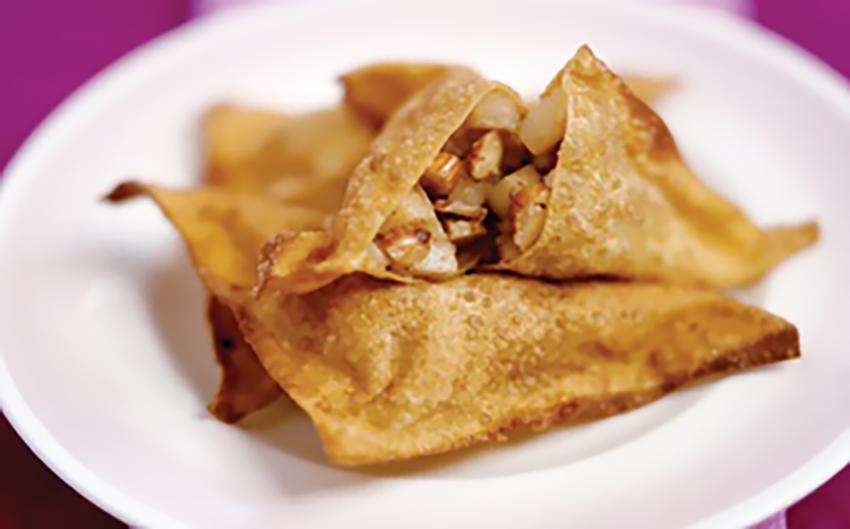 Here's something different — and delightful — for your next holiday party. I love wonton soup and wonton appetizers but this recipe takes the concept of wontons, turns it on its head, and knocks it out of the park! Filled with apples and chopped almonds and flavored with five spice powder and a little brandy or bourbon, these Five Spice Apple and Almond Wontons are a fancy dessert!
Five Spice powder is easy enough to find in most well-stocked grocery stores but you could make it yourself. It's a combination of all five Chinese flavors: sweet, sour, bitter, salty, and umami (savory). Sounds odd to put in dessert, I know! But it's delicious. It's honestly one of my favorite spices. Most often it combines star anise, cloves, Chinese cinnamon, hot pepper and fennel seeds. You could think of it as Chinese "pumpkin spice" (some people use it in pumpkin pie). But it has an interesting flavor kick so it is usually used to flavor meat and vegetables.
I think it would be best to serve these as soon as they're ready. But you could make them ahead and reheat them. Serve them warm, though, with vanilla (or maybe caramel) ice cream.
Five Spice Apple and Almond Wontons
Ingredients
1 1/4 cups Maisie Jane's Whole Roasted Almonds, finely chopped
Juice of 2 lemons
3 tart green apples such as Granny Smith
1-2 tablespoons butter
3 tablespoons bourbon, brandy, or apple juice
1 1/2 teaspoons Chinese five-spice powder
1/2 teaspoon vanilla extract
16 (or more if necessary) won ton wrappers
Canola oil for frying
Preparation
Squeeze lemon juice into a large bowl.  Peel, core, and dice apples into small chunks, placing them in lemon juice so they will not brown.  Drain and discard lemon juice.
Melt butter in skillet.  Add almonds and apples and sauté for 4 minutes, until apples begin to brown. Add liquid and continue cooking until it's gone.  Remove pan from heat, let cool slightly, and stir in five-spice powder and vanilla extract. 
Fill a small dish with water.  Place a won ton wrapper on a plate or clean counter, and spoon about 1 teaspoon apple-almond filling in the center.  Dip a finger in water and moisten the corners of wrapper.  Fold in half, pinching and sealing tightly.  Place under a damp paper towel to keep from drying out and cracking, and repeat with remaining won ton wrappers and filling.
Fill a high-sided pot with 1 inch of canola oil.  Turn to medium heat and bring to 350°F.  Fry won tons in batches for about 15 seconds each side, or until golden brown.  If the oil begins to smoke, reduce heat. Drain on paper towels. 
Serve immediately, or store for up to a day refrigerated and reheat in a 350°F oven for 15 to 25 minutes.
This recipe was brought to you courtesy of the Almond Board of California.
---
Maisie Jane's California Sunshine Products, Inc. was founded on strong beliefs and passion for offering unique, flavorful, top-quality, nut products. At Maisie Jane's we strongly believe in earth-friendly practices that start on our family owned and operated orchards. We use Organic farming practices and continue in the process by using all-natural ingredients with no preservatives or GMOs. And we believe in honest, friendly and helpful customer relations at all levels. We take pride in every task, every day, with every person.