Family Fun Gift Basket For Chico Locals in Time for Thanksgiving
Posted on : November 19th, 2018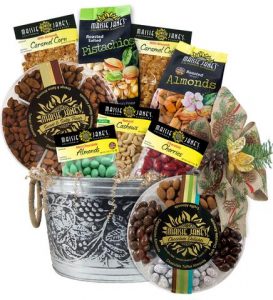 Calling all Chico Locals! Order our Family Fun Basket #1 by Nov. 20th and you'll get 15% off and will be able to pick it up in our gift shop in time for Thanksgiving!
This is truly one of our very favorite gift baskets. It's filled with a wonderful assortment of Maisie Jane's treats! You'll find a Chocolate Delight Nut Round, a Sweet & Salty Nut Round, Caramel Corn with Almonds, bulk bags of Oven Roasted Almonds, Roasted Salted Pistachios, a Sweet and Salty Seed Snack, and Chocolate Cherries! Doesn't that sound like a table of perfect snacks to have on your table during the big game on Thanksgiving? (We're sorry that the old photo at left does not match the description. Our more current image was lost in the Camp Fire in Paradise.)
Even better, order ASAP and you can pick this basket up at our store at 1324 Dayton Road in Chico and save money on shipping and time shopping. Once you select what you want in our online store, just click the Pick-Up In Store: Chico, CA button. Then let us know:
What day you want to pick it up
Name of person who will pick up the order
Contact number
What time you are wishing to pick it up on your desired pick up date
We'll have your items waiting for you when you arrive. It's that simple (and fun)!
Store Hours for the week before Thanksgiving
11/17 9:00 am – 6:00pm
11/18 12:00pm – 4:00pm
11/19-11/21 9:00am – 6:00pm
11/22 CLOSED
---
Maisie Jane's California Sunshine Products, Inc. was founded on strong beliefs and passion for offering unique, flavorful, top-quality, nut products. We strongly believe in earth-friendly practices that start on our family owned and operated orchards. We use Organic farming practices and continue in the process by using all-natural ingredients with no preservatives or GMOs. We believe in honest, friendly and helpful customer relations at all levels. We take pride in every task, every day, with every person.