Enjoy Pumpkins and Pie from Maisie Jane's this Weekend!
Posted on : October 23rd, 2017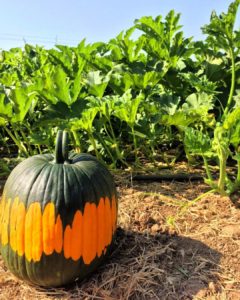 It's Pun'kin Patch Corner season—our favorite time of year! Go on a Fall family farm adventure this weekend and join us for scavenger hunts, pumpkin relays and pumpkin picking at 3764 Hegan Lane, here in Chico, CA, Saturday and Sunday from 10 am – 4 pm.
You can pick your own pumpkins or choose from our prepicked varietals like Cinderella, Male of Gooligan or Blue Harvest. Also on site: giant sunflowers and decorative gourds.
Class/Group field trips are welcome during the week, call to book! 530-899-7909.
And before you go home, stop by Maisie Jane's Country Store, just a little ways down the road at 1324 Dayton Road, and pick up more goodies for your Halloween party . . . including one of our locally famous homemade pies! Only available in-store in Chico, just stop by to see what we have in stock or call ahead at 530-809-2436 to make sure your favorite is available. Enjoy:
This local favorite features a rich, creamy filling on an almond butter crust, topped with crunchy roasted almond pieces. The crust, filling, and topping contain our very own premium almond butter. So delicious—you've never had anything like it! 8″ serves 10-12.
A light fluffy texture with a rich flavor of dark chocolate and hazelnuts, a chocolate crumb crust, and a salty chocolate cashew topping. Yum, yum, yum! 8″ serves 10-12.
Oh my! This is the perfectly balanced cheesecake! The sinfully rich silky center is balanced with a hint of express, all atop our delightful chocolate almond crust.  8″ serves 10-12.
Wake your taste buds with this delicious blend of creamy coffee ice cream, smooth rich fudge, and a slightly crunchy finish with our crushed chocolate toffee almonds. 8″ serves 10-12.
So beautiful and so good—this is sure to be a crowd pleaser! A rich dark chocolate cookie crust layered with a refreshing mint chip ice cream, premium fudge sauce, and topped with Maisie Jane's Mint Chocolate Almonds. 8″ serves 10-12.
Dark chocolate cookie crust packed with premium vanilla ice cream, layered with rich fudge sauce, caramel, and freshly roasted pecans equals WOW! 8″ serves 10-12.
Make it a full day celebrating the bounty of our local farm community! You'll be glad you did.
---
Maisie Jane's California Sunshine Products, Inc. was founded on strong beliefs and passion for offering unique, flavorful, top-quality, nut products. We strongly believe in earth-friendly practices that start on our family-owned and operated orchards. We use organic farming practices and continue in the process by using all-natural ingredients with no preservatives or GMOs. We believe in honest, friendly and helpful customer relations at all levels. We take pride in every task, every day, with every person.