English Toffee
Posted on : December 29th, 2020
Let's ring in the New Year in style
with a recipe that is sure to impress!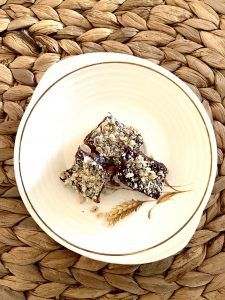 A little sweet treat to keep you up until midnight may be exactly what you need. As always, we like to keep things simple, easy, and delicious. Thanks to Belgian Foodie, this recipe does just that.
This year, New Years is going to look a little bit different for some of us. And, well, probably this whole holiday season has. Knowing we are all going through the same thing together makes it sting a little less, and the hope that comes with a New Year and new beginnings helps too! On behalf of all of us here at Maisie Janes, we would like to extend a cyber hug to you all. A hug that says, you did it, you are still chugging along through all the crazy and doing your best. May 2021 bring more peace of mind to all.
This recipe takes:
10 min prep time
20 mins cook time
Servings: 

24

 pieces
Ingredients
1 cup sugar white or raw cane sugar

1/2 lb butter

1/4 tsp salt

1/2 tsp vanilla extract

7 oz Maisie Jane almonds

2 1/2 oz dark chocolate chips or dark chocolate bar (at least 54% cocoa)

1 oz pecans finely chopped
Instructions
Toast the almonds in a pan over a low heat or in an oven on a baking sheet in medium heat. Stir frequently to avoid the almonds burning. Afterwards, chop the almonds into medium-size pieces. Put aside until needed.

Measure the chocolate and chopped pecans before starting to cook the caramel mixture on the stove, as you will need to add these quickly and might not have time later to prepare them.

Put the sugar, butter, salt, and vanilla extract in a heavy saucepan over medium-high heat. The saucepan should be large enough for the ingredients to boil up towards the top without overflowing.

Stir gently and continue over medium-high heat until the mixture starts to boil.

Reduce the heat to medium or medium-low and continue to cook about 12 minutes. Stir gently but not constantly while it boils until it reaches the "hard crack stage", which is at 300F (150C) if you use a candy thermometer. Otherwise, you will need to determine when it's done by observation and testing. When it reaches the hard crack stage, turn off the heat and remove the saucepan.

Line a 7 x 11 inch (18 cm x 28 cm) shallow pan with baking paper. Spread the toasted chopped almonds on the surface.

Pour the caramel mixture over the chopped almonds. Spread out the caramel evenly over the almonds.

Distribute the chocolate chips or chocolate bar all over the top of the hot caramel-almond mixture. Using a knife or spatula, spread the chocolate as it melts over the top. Then sprinkle the chopped pecans on top of the chocolate.


Once it's cool, cut the English toffee into pieces. If you don't care if the pieces are uniform, you can merely break the English toffee into different-sized pieces.
Maisie Jane's California Sunshine Products, Inc. was founded on strong beliefs and passion for offering unique, flavorful, top-quality nut products. We embrace earth-friendly practices that start on our family-owned and operated orchards. We use organic farming practices and continue in the process by using all-natural ingredients with no preservatives or GMOs. We believe in honest, friendly and helpful customer relations at all levels. We take pride in every task, every day, with every person.