Energy-Boosting Layered Chia and Almond Pudding Parfaits
Posted on : May 30th, 2019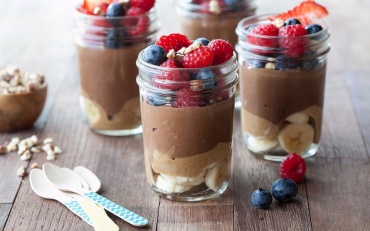 A tasty dessert that's also good for you? Absolutely— when you have almond butter and chia seeds! Today's recipe for Layered Chia and Almond Pudding Parfaits combines wholesome ingredients with no added sugar besides what's in the fruit and those that are a good source of protein and a variety of other nutrients.
First a little about chia seeds. Yes, this is the same thing that became famous as the key ingredient in "Chia Pets"— a gag gift that grows green chia fur when you add water. What we didn't know then was how fortunate we were to have the seeds! "Chia" means "strength" in the ancient Mayan and Aztec cultures where these edible seeds originated. They are a concentrated super food known for their health-inducing qualities. Just one ounce (about 2 tablespoons) contains 139 calories, 4 grams of protein, 9 grams fat, 12 grams carbohydrates and 11 grams of fiber, plus healthy omega-3 fatty acids, antioxidants and calcium. I usually sprinkle them on granola or oatmeal, add a little to smoothies, or mix a little into the batter when I make quick bread or other baked goods.
But chia seeds have another, I'm going to say "odd," characteristic. If you add water, mix it up with your seeds, and let it sit overnight, it creates a gel-like substance that is a great vegan substitute for gelatin. That means you can make pudding with it and with the right ingredients added —unsweetened cacao powder, for example—it's actually quite delicious!
This recipe was created by Danielle Walker for the Almond Board of California. Like all my favorite recipes, it's quite simple to make. But you'll have to plan ahead because it needs to sit overnight for the chia seeds to develop the appropriate pudding-like texture.
Layered Chia and Almond Pudding Parfaits
INGREDIENTS:
1 1/2 cups unsweetened almond milk
6 ounces pitted dates
1/2 cup unsweetened raw cacao powder
1/3 cup chia seeds
2 teaspoons vanilla extract
1/2 teaspoon ground cinnamon
1/4 teaspoon sea salt
2 medium bananas, sliced
1/3 cup unsalted natural almond butter
1 cup mixed berries of choice
1/4 cup roasted almonds, chopped
PREPARATION:
Combine almond milk, dates, cacao powder, chia seeds, vanilla, cinnamon and sea salt in a blender. Blend until very smooth, about two minutes. Transfer the mixture to a bowl, cover and refrigerate overnight.
To assemble the parfaits: Divide the banana slices between six 8-ounce Mason jars or bowls. Spoon equal amounts of almond butter into the jars, then top with equal amounts of the chilled pudding. Top with berries and almonds and serve immediately or refrigerate covered for up to three days.
---
 Maisie Jane's California Sunshine Products, Inc. was founded on strong beliefs and passion for offering unique, flavorful, top-quality, nut products. We strongly believe in earth-friendly practices that start on our family-owned and operated orchards. We use organic farming practices and continue in the process by using all-natural ingredients with no preservatives or GMOs. We believe in honest, friendly and helpful customer relations at all levels. We take pride in every task, every day, with every person.