Dessert Ideas Inspired by Maisie Jane's New Handcrafted Nut Butters
Posted on : September 14th, 2017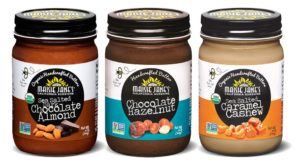 Ready to fall in love? Maisie Jane's has two new handcrafted nut butters to join long-time favorite Chocolate Hazelnut:  Organic Sea Salted Caramel Cashew Butter and Organic Sea Salted Dark Chocolate Almond Butter!
Ask anyone at Maisie Jane's why you should try them and they'll tell you how much healthier they are than other commercial products you usually find on your supermarket shelf: organic, vegan, wheat-free, GMO-free, filled with protein and lots of healthy nutrients. But seriously? These are such delectable blends of truly scrumptious ingredients, we suspect you'll remove the lids and eat them straight from the jar with a spoon!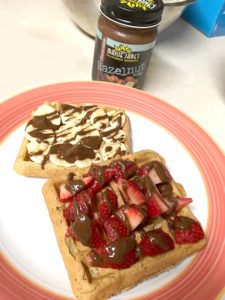 But when you're done with that, consider these great ideas:
Use them as fun dips at your next party. Just pile up slices of fresh apples and pears, pieces of dark chocolate, homemade almond cookies or sliced store-bought donut holes or gingersnaps and invite your guests to mix and match, dip and munch to their heart's content.
Waffles with Fruit drizzled with Nut Butter (this recipe called for Chocolate Hazelnut but any of our new nut butters would be wonderful!)
Vegan Chia Pudding. Add a large dollop (at least 1 Tbsp or more) of any of Maisie Jane's handcrafted nut butters (the chocolate varieties are especially good in this) and leave out the sweetener. So good!
Handcrafted Nut Butter Baked Apples. Substitute any of Maisie's new handcrafted nut butters for the almond butter in this recipe!
And this is just the beginning. Tell us how these inspired new nut butters inspire your wildest dessert fantasies!
---
Maisie Jane's California Sunshine Products, Inc. was founded on strong beliefs and passion for offering unique, flavorful, top-quality, nut products. We strongly believe in earth-friendly practices that start on our family-owned and operated orchards. We use organic farming practices and continue in the process by using all-natural ingredients with no preservatives or GMOs. We believe in honest, friendly and helpful customer relations at all levels. We take pride in every task, every day, with every person.