Delightful Cashew Butter to Nourish Your Body and Delight Your Soul
Posted on : December 14th, 2017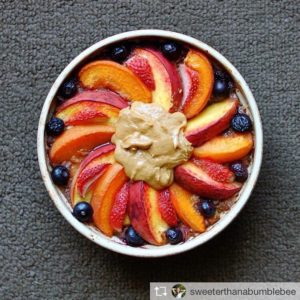 Look at this gorgeous photo a Maisie Jane's fan —sweeterthanabumblebee—shared with us on Instagram for a delicious breakfast: baked banana oats topped with a sliced peach, berries and our very own cashew butter! It reminded me of how much I loved it when my mother would serve us a simple breakfast like oatmeal and get us excited to eat it by making a happy face in it with berries and nuts!
Using cashew butter in this presentation makes it a particularly healthy treat! Studies show that eating nuts every day can lower your risk for cancer, heart disease, respiratory problems and Type 2 Diabetes. And did you know that cashews are a decent source of protein? There are 3 g of protein per 1-tbsp. serving. It also contains oleic acid, the same type of heart-healthy unsaturated fat found in olive oil. And it is a good source of magnesium! For those over the age of 30, a tablespoon of cashew butter provides 10 percent of the recommended dietary allowance (RDA) for magnesium for men and 13 percent of the RDA for women. Magnesium is important for healthy muscle, neurological, metabolic and immune functioning. It is essential for bone health and helps maintain steady heart rhythms, normal blood pressure levels and stable blood sugar levels. It is also so useful for a good night's sleep, this photo looks like an evening snack to me!
Cashews are also a good source of the essential amino acid L-tryptophan, which is needed to produce serotonin in the brain. Serotonin is a neurotransmitter that has been shown to affect mood. Research has also shown that tryptophan depletion can result in depression. And, like Magnesium, L-tryptophan is essential for a good night's sleep.
Good for the body, good for the mind/emotions and delicious to eat! I want some apple slices slathered with cashew butter right now!
All Non-GMO Project Verified, Kosher Certified, Gluten Free, Wheat Free, Vegan, and made in our plant that does NOT process peanuts.
Looking for a nut butter gift idea? Choose a selection of our nut butters and wrap them with a bow!
Need to ship them in time for Christmas? Make sure to order by December 18th!
---
Maisie Jane's California Sunshine Products, Inc. was founded on strong beliefs and passion for offering unique, flavorful, top-quality, nut products. We strongly believe in earth-friendly practices that start on our family-owned and operated orchards. We use organic farming practices and continue in the process by using all-natural ingredients with no preservatives or GMOs. We believe in honest, friendly and helpful customer relations at all levels. We take pride in every task, every day, with every person.