Dark Chocolate Almond Cookies (Vegan and Gluten-Free Recipe)
Posted on : December 20th, 2018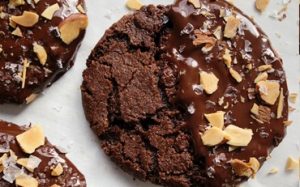 It's cookie baking season! Could it really be holiday time without homemade cookies? But what about the gluten-free people and vegans on your list? Well, have no fear, Maisie Jane's is here! Today's recipe is sure to satisfy the chocolate lovers in your family but it uses almond flour instead of wheat so it is gluten-free. And vegan alternatives can easily be used for the ingredients that are not (I'll tell you which ones). They're really attractive, too—don't you think?
For this recipe you will need almond flour and almond milk. It's super easy to make almond flour. Simply put 1/2 cup or less at a time of Maisie Jane's Roasted Almonds into an electric coffee grinder or food processor and pulse several times until you have a medium-fine textured consistency similar to cornmeal or a little finer. (But watch it carefully. If you grind too long, you'll have almond butter!) Put the ground almonds into a container and do it again until you have at least 1 1/4 cups of almond flour for this recipe (or make more and keep it stored in an airtight container in the refrigerator for the next time you want to use some). Sift your almond flour to remove the pieces that are too large and grind those a little longer. Almond milk is easy to find in the grocery store but if you like it fresh, it's also easy to make at home if you plan ahead. You'll find a recipe for making your own almond milk here.
The following recipe was developed for the Almond Board of California by Julie Resnick of the Feedfeed. I can't wait to get into the kitchen!
Salted Dark Chocolate Almond Cookies
INGREDIENTS:
3 oz. dairy or vegan butter
2 tbsp Maisie Jane's Smooth Almond Butter or Organic Smooth Almond Butter
½ cup granulated sugar
½ cup brown sugar
1 tsp vanilla extract
1 ¼ cup almond flour (see above)
½ cup unsweetened cocoa powder
1 tsp baking soda
¼ tsp salt
1 tbsp almond milk
2 (3.5-oz) conventional or vegan dark chocolate bars
1 tbsp coconut oil
½ cup sliced almonds, toasted or finely chopped roasted almonds
Flaky sea salt, for topping
PREPARATION:
Preheat oven to 375°F and line two baking sheets with parchment paper.
In a stand mixer with a fitted paddle attachment, beat the butter, almond butter and sugars until light and fluffy, about 2-3 minutes. Add vanilla extract and combine.
In a medium bowl, mix the almond flour, cocoa powder, baking soda, and salt. Add to the butter and sugar mixture. Add almond milk and mix to combine. Chop one bar of chocolate and add to the batter.
Roll cookie dough between your hands, forming golf-ball sized balls, and slightly flatten into a disc shape. Place on parchment-lined baking sheets at least 2 inches apart. Bake until crackly, about 15-18 minutes. Let cool on the  baking sheet for 3 minutes, then transfer to a cooling rack until completely cooled.
In a small bowl, melt remaining chocolate bar with coconut oil and stir. Once cookies have cooled, dip them half way into melted chocolate, then transfer to parchment lined baking sheets. Sprinkle with almonds and flaky salt. Chill until chocolate has set. Serve immediately or store in an airtight container for up to 5 days.
Happy Baking!
---
Maisie Jane's California Sunshine Products, Inc. was founded on strong beliefs and passion for offering unique, flavorful, top-quality, nut products. We strongly believe in earth-friendly practices that start on our family owned and operated orchards. We use Organic farming practices and continue in the process by using all-natural ingredients with no preservatives or GMOs. We believe in honest, friendly and helpful customer relations at all levels. We take pride in every task, every day, with every person.