Creamy Vegan Tomato and Butternut Squash Soup with Cashew Butter
Posted on : October 11th, 2018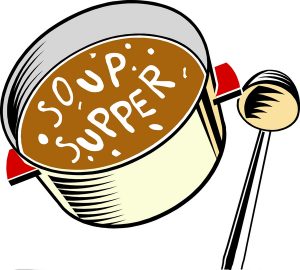 Chico weather is SO weird these days. Summer was hot, hot, hot and I've been longing for relief. Finally, Fall arrived and the temperatures plummeted 20 degrees overnight! Almost immediately afterwards we were deluged with rain. People are complaining but not me! I love it when the season changes and I get to shut the air conditioning off, open the windows, and throw on a sweater if I need to from time to time. Harvest time is a super exciting time of year and Harvest foods are my favorite way to celebrate! Not only that, it's soup season! Hooray! I've been celebrating the change of seasons by digging out my favorite soup and stew recipes. Nothing is more comforting. And my favorite Autumn soup is Creamy Vegan Tomato and Butternut Squash made with Cashew Butter.
Have you tried our Maisie Jane's Cashew Butter yet? It's made with 100% dry-roasted cashews and NOTHING else. It's a great source of protein and healthy fats, B Vitamins and magnesium. The texture is extremely smooth and it has a wonderful naturally sweet flavor. I love it on toast with a little of our 100% pure Honey made by our local bees! But most of all I love using it in creative cooking because its tasty but not overpowering flavor mixes well in so many different recipes and allows you to add a nutritional punch and creamy texture to a wide variety of meals without using dairy if you don't want to.
That's what today's recipe is about. It's a combination of two different soups I loved as a child—creamy tomato soup and butternut squash soup. But this is the grown-up version! I left out the maple syrup and cinnamon my mom always added to butternut squash, used savory spices instead, and added chunkier vegetables than your typical pureéd tomato soup. The result is like a delicious heart-warming hug that nourishes you from the inside out.
Note: I don't make soup the same way twice and don't measure anything but this is a close approximation of what I've been eating lately. Throw caution to the wind and improvise on this as inspired. You might like more water or more cashew butter depending on how thick you like your soup to be.
Creamy Vegan Tomato and Butternut Squash Soup
2 tablespoons olive oil
1 onion, chopped
2-3 cloves garlic, minced
Optional: diced vegetables of choice (I like celery, sometimes carrots, too.)
1/2 teaspoon turmeric
1/2 teaspoon ground cumin
1/2 teaspoon dried basil
1 (2 pound) butternut squash – peeled, seeded and diced
1 (28-ounce) can of Italian stewed tomatoes or crushed tomatoes
2 cups vegetable stock
2 TBSP Cashew Butter
Salt and pepper, to taste
Optional: Chopped parsley and roasted cashews for a garnish
Heat oil over medium heat in a large soup pot. Add onions and sauté until soft and fragrant, about 10 to 15 minutes. Stir in garlic, turmeric, cumin and basil; cook another 1 to 2 minutes.
Add butternut squash and cook, stirring occasionally, until squash begins to soften, about 10 minutes. Stir in tomatoes and enough vegetable stock to cover. Bring to a boil. Reduce to a simmer and cook until squash is very tender, about 20 minutes.
Pureé the soup lightly in batches. I aim to have all the large pieces broken down but not completely smooth. Your taste in soup texture may vary so follow your heart! Pureé to a smooth consistency if you prefer. Return soup to the pot and reheat; season to taste with salt and pepper. Garnish with parsley and roasted cashews.
Variations:
• Add a dollop of vegan (or dairy) yogurt on top before serving.
• (My Favorite) Serve over rice with a healthy sprinkling of grated vegan or dairy cheddar cheese on top.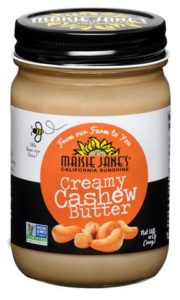 ---
Maisie Jane's California Sunshine Products, Inc. was founded on strong beliefs and passion for offering unique, flavorful, top-quality, nut products. We strongly believe in earth-friendly practices that start on our family owned and operated orchards. We use Organic farming practices and continue in the process by using all-natural ingredients with no preservatives or GMOs. We believe in honest, friendly and helpful customer relations at all levels. We take pride in every task, every day, with every person.