Chocolate Cherry Tart: A Sweet and Tangy Summer Treat [Recipe]
Posted on : June 16th, 2017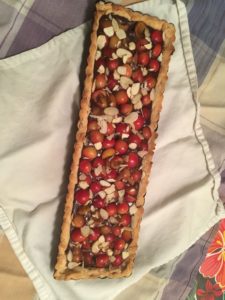 Cherries are in season in Northern California and this chocolate cherry tart is the perfect excuse to head to the local farmer's market and pick up a few baskets. Whether you're just looking for a new recipe to try or you want to impress guests at a party, this tart is the perfect combination of sweet and tangy.
The shortbread crust tastes delicious on its own, but add in the smooth chocolate ganache, cherries with a touch of tartness, and garnish with Maisie Jane's Organic Sliced Almond Delights and you have a mouthwatering summer dessert that will satisfy anyone's palate. And here's a secret: this recipe is gluten-free, Paleo, and vegan – and you really can't even tell!
Chocolate Cherry Tart
(Gluten Free, Paleo + Vegan)
Prep time – 20 mins
Cook time – 10 mins
Total time – 30 mins
Author: Rachel Conners
Ingredients
For the crust
1 cup (112g) Bob's Red Mill coconut flour
⅓ cup sliced almonds, toasted and finely chopped*
¼ teaspoon kosher salt
¼ cup pure maple syrup
½ cup coconut oil, solid at room temperature
For the chocolate ganache
6 ounces dairy-free dark chocolate, chopped
½ cup canned full-fat coconut milk
¼ teaspoon kosher salt
⅛ teaspoon almond extract (optional)
1 cup fresh cherries, pitted and halved (I used an OXO cherry pitter to pit them)
Toasted sliced almonds, to garnish
We love sharing delicious recipes we find! If you'd like free access to some of Maisie's personal recipes, download them below and don't forget to purchase your almond butter in our online store!

Maisie Jane's California Sunshine Products, Inc. was founded on strong beliefs and passion for offering unique, flavorful, top-quality, nut products. We strongly believe in earth-friendly practices that start on our family owned and operated orchards. We use Organic farming practices and continue in the process by using all natural ingredients with no preservatives or GMOs. We believe in honest, friendly and helpful customer relations at all levels. We take pride in every task, every day, with every person.