Chile Honey Almond Chicken Kebabs
Posted on : August 13th, 2019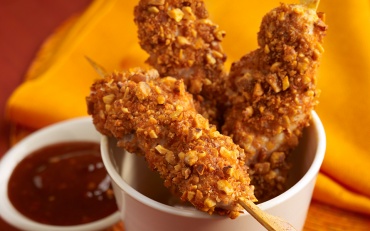 Here's a grown-up version of a dinner treat I loved as a kid: chicken fingers on a stick! How fun is that? It's the perfect dinner idea for summer if you ask me. But this version is made with a crushed almond and breadcrumb coating and served with a spicy but sweet dipping sauce so we're going to give it the fancier name of Chile Honey Almond Chicken Kebabs. (Put some ketchup on the table and the kids will love it, too!)
The chicken tenders I get at the store are already the perfect size. But if you can't find those, buy chicken thighs. Trim away any visible fat and tendons. Then cut each thigh in half.
Chile Honey Almond Chicken Kebabs
Ingredients
2 pounds skinless, boneless chicken tenders
2 cups buttermilk
3/4 cup dry whole wheat bread crumbs, unseasoned (from 2 slices whole wheat bread)
1 tablespoon smoked paprika
1 teaspoon salt
1/2 teaspoon garlic powder
1/2 teaspoon onion powder
2 large eggs
1 tablespoon Dijon mustard
10 skewers (metal or wood)
Preparation
Preheat oven to 400 F. 
Place your chicken pieces in a large shallow dish. Add buttermilk and stir to coat. Put aside, covered, in the refrigerator for at least 30 minutes, or up to 2 hours.
In a food processor, grind together almonds, bread crumbs, paprika, salt, garlic powder and onion powder. Place in a flat rectangular pan.
Strain the buttermilk from the chicken through a colander, discarding the liquid. Then thread approximately 4 chicken pieces onto each skewer.
In a small bowl, whisk together eggs and Dijon mustard until smooth. Place in a flat rectangular pan.  Place each skewer into the egg mixture and turn to coat well.
Remove from mixture, allowing excess to drip off, and place in the bread crumb-almond mixture. Spoon mixture over each skewer to coat pieces well. 
Remove skewers from the crumb mixture and place on a baking rack set on top of a non-stick rimmed baking sheet (or spray a baking sheet with cooking spray). Bake for 30 minutes or until chicken is fully cooked and crust is browned.
While chicken is baking, prepare dipping sauce below. Serve kebabs warm, with dipping sauce on the side.
Chile Honey Dipping Sauce
3/4 cup orange juice
1/4 cup apple cider vinegar
1/4 cup honey
2 tablespoons sugar
1 tablespoon chopped canned chipotle chiles
2 teaspoons lemon or lime juice
1 tablespoon chili powder
1/2 teaspoon garlic powder
1/2 teaspoon onion powder
1/8 teaspoon salt
1 1/2 tablespoon cornstarch dissolved in 1/4 cup water or 2 teaspoons arrowroot
Combine all ingredients except cornstarch mixture in a small saucepan. Bring to a simmer and cook over low heat, stirring occasionally, for 10 minutes. Add cornstarch mixture and stir well; simmer over low heat until thickened, about 3 minutes. Keep warm until ready to serve.
---
Maisie Jane's California Sunshine Products, Inc. was founded on strong beliefs and passion for offering unique, flavorful, top-quality, nut products. We strongly believe in earth-friendly practices that start on our family owned and operated orchards. We use Organic farming practices and continue in the process by using all-natural ingredients with no preservatives or GMOs. We believe in honest, friendly and helpful customer relations at all levels. We take pride in every task, every day, with every person.