Celebrating the Red, White and Blue with Fruit Pizza with Almond Crust (Recipe)
Posted on : July 1st, 2018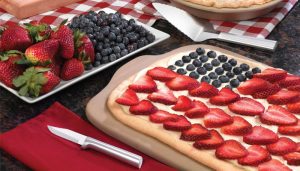 The Fourth of July is coming and I just had to share this recipe! Wouldn't this Red, White and Blue Fruit Pizza look wonderful on your picnic table? Delicious, too, and gluten-free with a tasty coconut almond crust!
Fruit Pizza, of course, isn't a pizza at all in the traditional sense. It uses something more similar to cookie dough than bread dough for a base, and don't even think about tomato sauce or mozzarella cheese! No, this is more akin to a fruit tart and definitely for dessert. I can't say it's 100% appropriate for all diet plans—it is fairly sweet. But who wants to diet when you're having a celebration? I'll settle for healthier than average and still enjoy a holiday treat!
[Note: I'm using a generic photo with permission for the fruit pizza. The crust on the pizza recipe I'm sharing here is filled with nuts and looks a bit different (not so smooth and bread like). Have no fear—it's still delicious!]
INGREDIENTS
For the crust
2 cups almond flour (made from about 2 cups of roasted almonds, see below)
1/2 cup shredded unsweetened coconut
1 medium soft banana (overripe is best!)
1 Tbsp honey
1/2 tsp cinnamon
For the topping
1/2 cup nonfat plain Greek yogurt
1 8oz container cream cheese
1/4 cup honey
2 tsp vanilla
1/2 cup shredded unsweetened coconut
1 cup blueberries
2 cups sliced strawberries
PREPARATION
Directions for crust
Start by blending your almonds into a flour. Add 1/4 cup of almonds at a time to an electric coffee grinder, food processor or blender and pulse until you have a meal or flour like consistency. (Don't pulse too long or you'll have almond butter!) Keep going until you have 2 cups of flour. Remove your almond flour to a mixing bowl.
Mix in banana, cinnamon, and 1/2 cup coconut by hand until well mixed. Freeze the dough for 20 minutes, just enough to make it less sticky and easier to spread.
Line a rectangular cookie sheet with parchment paper and grease the paper with coconut oil, vegetable oil or nonstick oil spray. Press the dough into the cookie sheet, and drizzle 1 tbsp honey evenly over crust. Bake at 325 for 15-20 minutes until slightly browned. (Don't let it burn!)
Remove from the oven and allow it to cool completely before topping.
Directions for topping
Combine yogurt, cream cheese, honey, coconut, and vanilla in a bowl, and whip for 30 seconds with a hand mixer. Spread the topping evenly over the cooled crust. Top with sliced strawberries and blueberries. You could make a flag design as shown or get creative with starburst patterns (the "rocket's red glare"), etc.
---
Fruit Pizza photo by Knightia13 at English Wikipedia [CC BY-SA 3.0 (https://creativecommons.org/licenses/by-sa/3.0)], via Wikimedia Commons
---
Maisie Jane's California Sunshine Products, Inc. was founded on strong beliefs and passion for offering unique, flavorful, top-quality, nut products. We strongly believe in earth-friendly practices that start on our family owned and operated orchards. We use Organic farming practices and continue in the process by using all-natural ingredients with no preservatives or GMOs. We believe in honest, friendly and helpful customer relations at all levels. We take pride in every task, every day, with every person.