Celebrating Almond Blossom Season with Vincent Van Gogh
Posted on : February 13th, 2018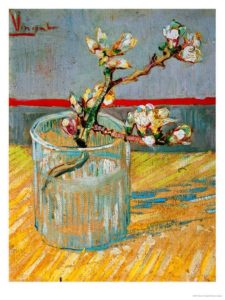 It's getting to be almond bloom season here in Chico—one of my favorite times of year. It's certainly absolutely glorious to see the trees decked out in pink and white, and paired with the sweet smell of honey makes it all the more divine.
I was recently reminded that one of the most famous people who loved almond blossoms was Vincent Van Gogh. I went to see the movie "Loving Vincent." If you haven't seen it yet, you really must! It's the first fully oil-painted animated film. It looks like his actual paintings come to life! And the story is fascinating, casting a spotlight on his later life with what actually becomes a "murder mystery" of sorts, depending on how you read the evidence.
The movie depicts Van Gogh going out into the fields and orchards every day in the last year of his life when he lived in the French country town of Arles. When he arrived it was snowing hard so the first painting he did there was of an almond branch just beginning to flower in a glass of water. He wrote to his brother Theo about it with excitement, saying that even though it was too cold to work outside yet, he was already painting the almond blossoms. To him they represented hope as he was starting a brand new life.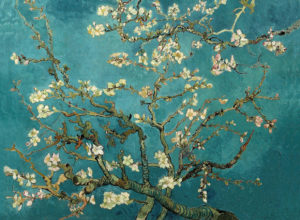 He did many paintings of the almond trees when he lived in Arles, including one of the last paintings he ever did in his life: "Blossoming Almond Tree." This painting is one of his most famous. It was also unusual in that the flowering tree fills the canvas with no background or any other distracting elements. He painted it for the birth of his brother Theo's child, Vincent Willem van Gogh, who was named for him. Theo wrote Vincent in a letter "As we told you, we'll name him after you, and I'm making the wish that he may be as determined and as courageous as you." The family later viewed this painting as their most prized possession and the child grew up to found the Van Gogh Museum in his uncle's honor.
Almond Trees represented rebirth to Van Gogh as is does to people all over the world. To those of us who live in Chico, it's joyous to see them. It means Spring is right around the corner!
---
Maisie Jane's California Sunshine Products, Inc. was founded on strong beliefs and passion for offering unique, flavorful, top-quality, nut products. We strongly believe in earth-friendly practices that start on our family owned and operated orchards. We use Organic farming practices and continue in the process by using all-natural ingredients with no preservatives or GMOs. We believe in honest, friendly and helpful customer relations at all levels. We take pride in every task, every day, with every person.