Care Packages and Other Gifts from Maisie Jane's
Posted on : August 29th, 2019
One of my friends just sent her oldest child off to college for the first time. I believe she's been gone no more than a few days but my friend misses her already and is already planning what kind of "I Love You" care package to send her way! She wants that package full of healthy but also yummy treats so I suggested she take a look at the gift basket, boxes and flats available from Maisie Jane's!
We have so many gift baskets to choose from, picking something her child will like shouldn't be too hard. The hard part is which one to choose! I thought I'd share some of my favorite possibilities.
Bounty Box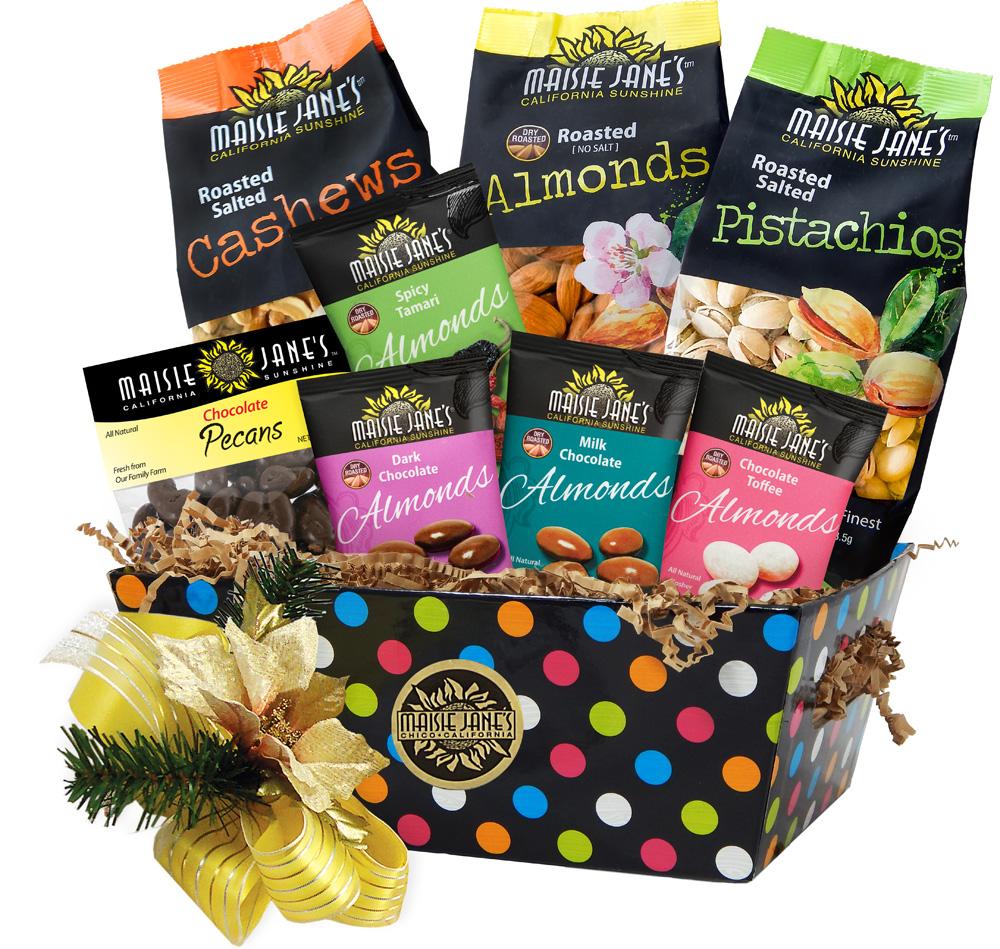 The polka-dotted Bounty Box is so much fun! And it's filled with a wide assortment of healthy nut snacks: three large bulk bags of Maisie Jane's Dry Roasted Salted Cashews, Roasted Salted Pistachios, and Oven Roasted Almonds, and easy to take with you sized Chocolate Pecans, Chocolate Toffee Almonds, Milk Chocolate Almonds, Dark Chocolate Almonds, and Spicy Tamari Almonds.
Be Green Gift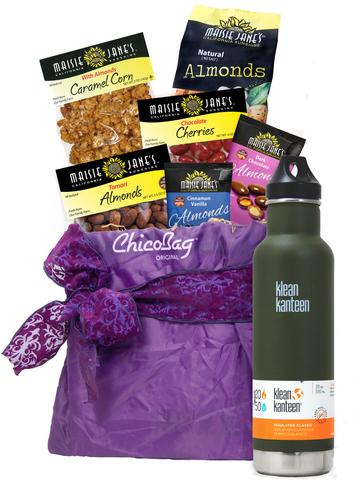 Every college student needs an eco-friendly Kleen Kanteen and a classic, easy to take along Chico Bag! But when the bag is filled with treats from Maisie Jane's as well, you really can't go wrong: Chocolate Cherries, Dark Chocolate Almonds, Cinnamon Vanilla Almonds, Tamari Almonds, Natural Almonds, and Caramel Corn & Almonds, all in our Be Green Gift selection.
Lilia's Delicatessen Box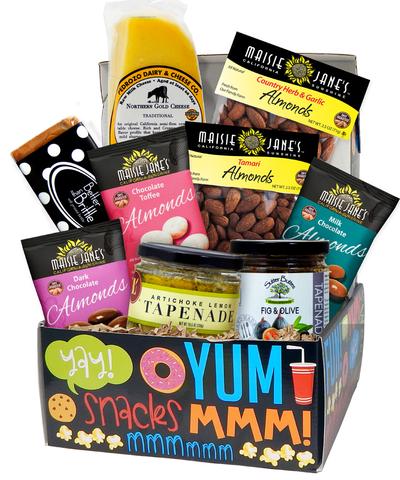 Lilia is Maisie's youngest daughter and these are some of her favorite gourmet treats! What's great is that nothing needs cooking. Just open up this super fun gift box and start snacking!  Included is Pedroza cheese, Lucero Artichoke Lemon Tapenade, Sutter Butte's Olive and fig spread, Better than Brittle Bar,  Maisie Jane's Country Herb & Garlic Almonds, Tamari Almonds,  Dark Chocolate Almonds, Chocolate Toffee Almonds, and Milk Chocolate Almonds.
PLEASE NOTE: It's still blazing hot locally so the chocolate options will be swapped out for choices less likely to melt for the time being.
---
Maisie Jane's California Sunshine Products, Inc. was founded on strong beliefs and passion for offering unique, flavorful, top-quality, nut products. We strongly believe in earth-friendly practices that start on our family owned and operated orchards. We use Organic farming practices and continue in the process by using all-natural ingredients with no preservatives or GMOs. We believe in honest, friendly and helpful customer relations at all levels. We take pride in every task, every day, with every person.