Can I Use Almond Butter if I'm Gluten-Free?
Posted on : June 21st, 2017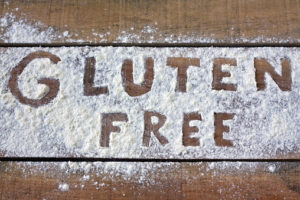 Are you going gluten-free? In a world full of wheat products, switching to a gluten-free diet can be a startling change. Even products you would expect not to contain gluten, such as almond butter, often turn out to have hidden wheat ingredients. Others don't have any wheat on their labels, but they're made in facilities that also process wheat, so they could get contaminated along the way. That could lead to a nasty reaction. Fortunately, there are some products on the market that keep your special needs in mind.
Made the Right Way
The best almond butter for gluten-free diets is one that contains just what the name implies: almonds. When there are no added sweeteners, thickeners, fats or other extra ingredients, it's a lot harder for those hidden gluten sources to sneak up on you. You can enjoy the pure, rich taste and healthy protein punch of gluten-free almond butter in your sandwiches, cookies, smoothies and more!
Of course, a nut butter made only from almonds isn't truly gluten-free unless it's processed in a wheat-free facility. While some people with gluten intolerance or celiac disease won't notice the traces of gluten from cross-contamination, more sensitive consumers certainly will. Almonds may be naturally gluten-free, but it's important for them to stay that way during the entire manufacturing process.
At Maisie Jane's all of our nut butter products are made in a peanut-free facility.
Why Not Peanut Butter?
Both almonds and peanuts are naturally gluten-free, but almond butter is the better choice for many people who are trying to stay away from wheat. Celiac sufferers often discover that they have additional food allergies or intolerances. One of the most common food allergies is peanuts. Almond butters provide a safer alternative for people with celiac disease who also have trouble with peanuts. Plus, the lack of added ingredients in Maisie Jane's almond butter means there are no worries about soy or other potential allergens, either.
Maisie Jane's almond butter is the perfect wheat and gluten-free solution for anybody who needs safe, healthy options. It's not just gluten-free. It's also:
cholesterol free
dairy free
peanut free
preservative free
salt free
made with 100% dry roasted almonds
free of added oils
vegan
free of added sugars
kosher-certified
non-GMO verified
Amazing Almond Butter
You can use gluten-free almond butter in a surprising number of foods. It can help boost the protein and healthy fat content of your recipes. Plus, almond butter adds a delicious nutty flavor to many dishes.
Check out these gluten-free almond butter options:
In smoothies, as a thickener and powerful protein source
Grain-free almond butter pancakes
Almond butter satay sauce – use it on meat or vegetables over quinoa or rice
No-grain granola is great made with almond butter, chia seeds and coconut flakes
Almond butter overnight oatmeal (choose certified gluten-free oats)
These ideas are just a start, of course. You can include Maisie Jane's almond butter in your gluten-free diet anywhere you'd use peanut butter. It'll provide more healthy protein and antioxidants, though. Plus, you'll get the benefit of a product with no additives or extra ingredients, and no potential allergens. Try out some easy grain-free almond butter cookies to get started!
Almond Butter Cookies
¾ cup brown sugar (lightly packed)
1 large egg
½ teaspoon vanilla extract
sea salt (optional)
Instructions:
Preheat oven to 350 degrees Fahrenheit. Line a baking sheet with parchment paper to prevent sticking.
Combine all ingredients except salt in a medium sized bowl, beating until smooth. The dough should form a sticky ball and pull away from the sides of the bowl. Cover the bowl and refrigerate the dough for 30 minutes.
Scoop the dough onto the parchment-covered cookie sheet in balls approximately 1 inch across. Sprinkle lightly with coarse-grained sea salt if desired.
Bake for 15 to 18 minutes, until just browned. Allow to cool on the sheet for 5 minutes, then transfer to a rack. Let the cookies cool to room temperature before eating for best results.
No matter how you like your almond butter, it's important to make sure it's safe and gluten-free. Choose Maisie Jane's almond butter in smooth or crunchy to provide the best and healthiest ingredients for all your favorite recipes. You'll be amazed at the difference a little almond butter can make.

Maisie Jane's California Sunshine Products, Inc. was founded on strong beliefs and passion for offering unique, flavorful, top-quality, nut products. We strongly believe in earth-friendly practices that start on our family owned and operated orchards. We use Organic farming practices and continue in the process by using all natural ingredients with no preservatives or GMOs. We believe in honest, friendly and helpful customer relations at all levels. We take pride in every task, every day, with every person.