Bringing Home the Cashew
Posted on : May 21st, 2019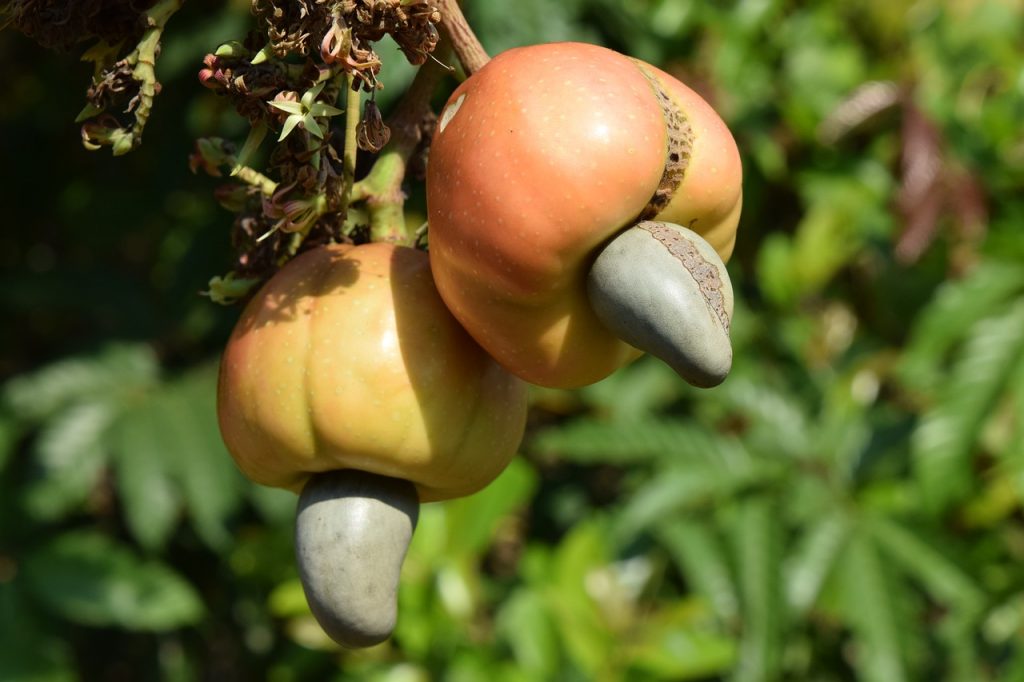 Did you know that Americans eat 90% of the world's cashew crop? We're crazy about them! And for good reason: they're delicious! AND nutritious. And, even though, I typically just eat them by the handful, they're wonderfully versatile to cook with, too. So you'd think that the United States would be # 1 in growing them or at least in the top ten.
Nope! Cashews need a hot humid—tropical—growing climate only found in the United States in southern Florida, Hawaii, Puerto Rico, and somewhat less so in parts of southern California. The top producers of commercially grown cashews are Vietnam, India, Brazil and the Ivory Coast (and other areas) in Africa.
Cashews actually originated in Brazil and other parts of South America in the Amazon rainforest. They were spread to other countries by the Portuguese who colonized the region in 1578. The name "cashew" comes from the Portuguese name "cajú", derived from "acajú", the name used by the indigenous Tupi people. It means "nut that produces itself" because the cashew seed (what we are calling a "nut"), oddly develops outside of the fruit. In Brazil and many other countries, this fruit is way more highly prized than the nut. Cashew "apples" are eaten fresh, cooked in curries, fermented into vinegar, made into popular fruity drinks or even more popularly distilled into liquor. The nuts are popular, too, but not as popular as selling them to us and other countries around the world.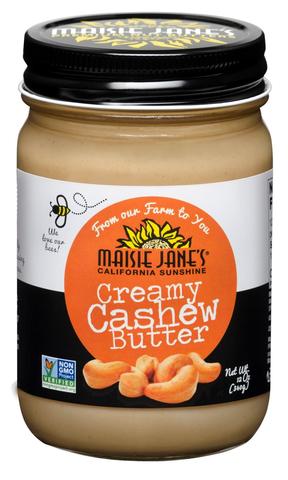 Lucky for us because we get to eat them! Here at Maisie Jane's we offer cashews in several forms. Roasted, salted cashews and our Organic Curry Spice Cashews are addictively good. Our Organic Honey Glazed Cashews and Organic Dark Chocolate Sea-Salted Cashews are wonderful treats. But my favorite offerings are our award winning Cashew Butter choices: creamy natural or organic. Mild and naturally sweet but with a distinctive savory flavor, it's a wonderful ingredient to use in so many recipes, it really must become a staple in your house if you like to cook! And if you're vegan looking for dairy-free alternatives, that goes double. It's wonderful for a nutrition-rich ingredient in sauces, soups, smoothies, cookies, so many things!
Both our natural and organic cashew butters are made entirely from 100% dry-roasted Cashews. That's it! No added palm oil, no salt or sugar, no additives of any sort. Just pure and delicious dry-roasted nuts. The texture is extremely smooth and already has a wonderful naturally sweet flavor. Why add anything to dilute it? And they are Non-GMO Project Verified, Kosher Certified, Gluten Free, Wheat Free, Vegan, and made in our plant that does NOT process peanuts.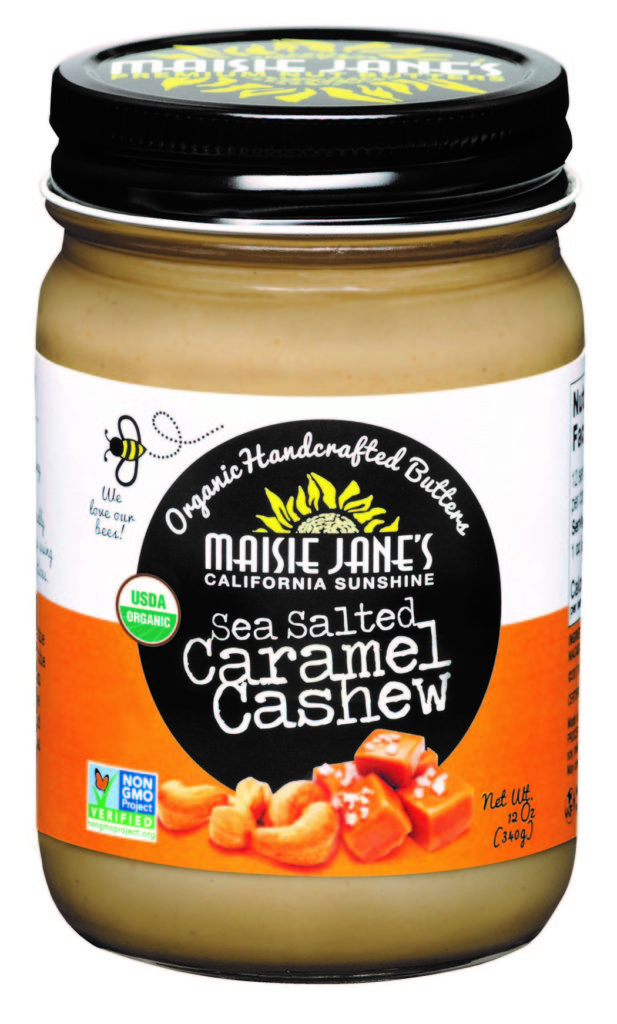 Of course, maybe you would like a special Cashew Butter treat that is a bit more sweet! Something you could make a somewhat healthier but truly gourmet brunch dish with or spoon over some ice cream for dessert. Why not? Live a little with our insanely delicious Organic Sea Salted Caramel Cashew Butter. Yes, I said "Sea-Salted Caramel." In a nut butter. And organic! You simply have to try some. I'm imagining making crepes with bananas or berries with a sprinkling of chocolate chips melting on top, then drizzled with that nut butter creation right now!
Let your imagination run wild with cashew butter! Check out all our cashew offerings right now.
---
Maisie Jane's California Sunshine Products, Inc. was founded on strong beliefs and passion for offering unique, flavorful, top-quality, nut products. We strongly believe in earth-friendly practices that start on our family-owned and operated orchards. We use organic farming practices and continue in the process by using all-natural ingredients with no preservatives or GMOs. We believe in honest, friendly and helpful customer relations at all levels. We take pride in every task, every day, with every person.