Batter Bowl Basket Serves Up the Perfect Gift for Breakfast Lovers
Posted on : November 30th, 2016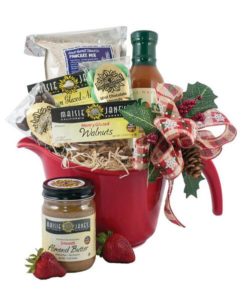 Looking for a unique gift for someone special? Do you need a gift for the person who has everything?
We love Maisie Jane's Batter Bowl gift basket. It's a unique gift for anyone who loves breakfast — and who doesn't love breakfast?! After all, it's the most important meal of the day! This gift "basket" is dual purpose because it's actually a batter bowl! A useful heavy-duty plastic batter bowl holds unique products to make a delightful and healthy breakfast.
We think this is a great gift for anyone, but especially for any moms and other women in your life! When someone receives this batter bowl, all she has to do is toss the bag of pancake mix by Great Harvest Bread Company in and follow the easy cooking instructions. Then once those hot cakes are ready, drizzle some Maisie Jane's almond butter and Morse Farms Mandarin Syrup onto them for an extra special pancake breakfast. What's great too is you can use this durable batter bowl for years to come! This kit also comes with a variety of our candied nuts, which make a yummy snack for any time of day.
Our adorable Maisie Jane's Batter Bowl includes:
Our almond butter is perfect with this breakfast kit. With no cholesterol and fewer calories, it's a healthy yet tasty alternative to peanut butter. Bursting with flavor, it's made from 100% dry roasted almonds with no other ingredients.
Honey and spices make these California walnuts irresistible! They're terrific to snack on or add that 'crunch' to your salads, cereal, and ice-cream.
These sweet and crunchy almonds are a wonderful, healthy treat, with an incredible glaze of cinnamon and spices. It's an "out of this world" topping for ice cream sundaes, coffee cakes, muffins, and more!
Dark chocolate lovers will quickly fall in love with these fresh California Almonds lightly roasted and coated with superior dark chocolate. These nuts are a great treat on their own or as a topping to your favorite dessert.
A layer of chocolate and sweet mint surrounds our roasted almonds. Try a few of these after a heavy meal for the perfect dessert. Chop them up and sprinkle onto a grasshopper pie or mint chocolate chip ice cream.
Great Harvest's Pancake Mix
This 100% whole wheat mix makes many delicious hearty pancakes that will kick-start your day. Top these cakes with almond butter or mandarin syrup for a super tasty breakfast.
This thick, sweet mandarin syrup is perfect for pancakes, waffles, and ice cream. You can also try it in place of honey on biscuits and glaze black forest ham, pork roasts, and barbecued chicken with it. You'll enjoy this tasty syrup with breakfast or dinner!
Batter bowl
This heavy duty, durable batter bowl is a must have for cooking and baking. Easily mix ingredients and pour directly from the bowl. The handle makes it super easy to use. Not to mention, this batter bowl is just simply cute and can be used again and again.
Have someone special in mind (hint hint: moms, grandmas, aunts) who would love this Batter Bowl gift basket as much as we do?! At Maisie Jane's we have so many unique gift basket varieties, there's something for everyone. Check out all of our gift options at our online gift shop.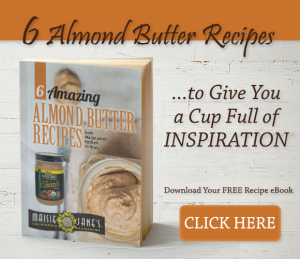 Maisie Jane's California Sunshine Products, Inc. was founded on strong beliefs and passion for offering unique, flavorful, top-quality, almond products. We strongly believe in earth-friendly practices that start on our family owned and operated orchards. We use Organic farming practices and continue in the process by using all natural ingredients with no preservatives or GMOs. We believe in honest, friendly, and helpful customer relations at all levels. We take pride in every task, every day, with every person.