It's Almost Time for the New Year's Eve Party!
Posted on : December 26th, 2017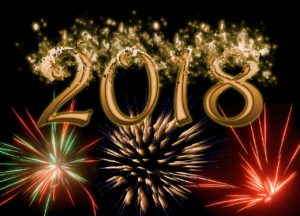 Oh no!!! In all the rush to get Christmas together you forgot about the family or office New Year's Eve party! What to bring, what to bring? It's a little late to shop online and have anything delivered on time, but if you live in or near Chico, CA, have no fear! This year, make it easy on yourself. Just stop on by the Maisie Jane's Country Store at 1324 Dayton Rd., and pick up a homemade pie or gift basket! Or shop the store and enjoy our amazing selection of locally made food treats along with our very own Maisie Jane's delights. I'm including a few ideas here but stop on by—it's fun to shop at our sweet little country store. You'll be glad you did!
Our Top Holiday Party Suggestions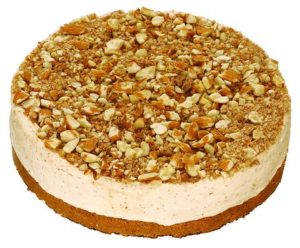 Pie! (Only available in store).
Our delicious pies are so good — and so popular—they disappear fast! But they're a perfect way to ring in the New Year, so call us at 530-809-2436 and we'll put one aside for you! Each 8″ pie serves 10-12 people. Our usual selection includes Auntie's Almond Butter Pie, Chocolate Hazelnut Creme Pie, Chocolate Truffle Cheesecake and many more. Check them out online to learn all about them but please call ahead to find out what's currently available.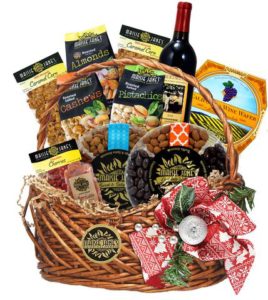 Family Fun or Office Enjoyment Basket #3
Our Family Fun Baskets are specially designed to bring to a party — nothing to cook or prepare. Just set it on a table and let everybody dig in! This one comes packed with Bertagna Son Kissed Vineyard's Sangiovese Wine, Wine Wafers, Maisie Jane's Large Chocolate Delight Nut Round, Large Sweet & Salty Nut Round, Two bags of Caramel Corn & Almonds, 14 oz Roasted Almonds, 10 oz Roasted Salted Pistachios, 12 oz bag of Roasted Salted Cashews, Chocolate Cherries, and dried Apricots.  All packed and bowed in a beautiful basket. What a treat!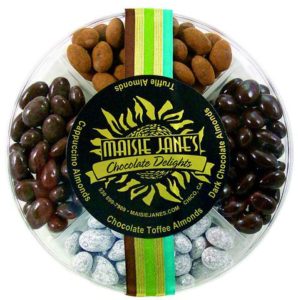 Sweet or Savory Gift Rounds
Our gift rounds make the decision of what to bring to the New Year's Eve party SO easy! Each one acts as its own serving tray with compartments for four different Maisie Jane's chocolate or flavored almonds. We have large or small gift rounds to fit with your budget. Choose between Chocolate Delights, Harvest Bounty, Sweet and Salty Treats and our Mix & Match Combo.
---
Maisie Jane's California Sunshine Products, Inc. was founded on strong beliefs and passion for offering unique, flavorful, top-quality, nut products. We strongly believe in earth-friendly practices that start on our family-owned and operated orchards. We use organic farming practices and continue in the process by using all-natural ingredients with no preservatives or GMOs. We believe in honest, friendly and helpful customer relations at all levels. We take pride in every task, every day, with every person.