Almost Instant Pressure Cooker Baked Apples
Posted on : November 6th, 2018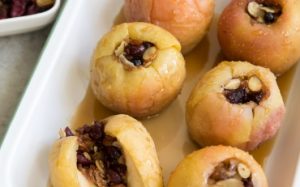 When was the last time you had a baked apple? I used to LOVE them! They were perhaps my favorite harvest season dessert when I was growing up. But it's been years since I made this dish myself. I don't know why—I've found recipes that take far less time than the full hour my mother's recipes took. But until now I never found a recipe that took as little time as the one I'm sharing today: 5 minutes in a pressure cooker! (And an additional 5 minutes to cool.)
Ohhhh, scary, a pressure cooker! I had an old-fashioned one with a pressure regulator on the top that jiggled ominously as the cooker heated up. Visions of the thing blowing up, spewing scalding liquid all over the kitchen and all over me, always made using it too terrifying to be worth the trouble. But today's pressure cookers are nothing like that! First of all they're electric now. And they come with wonderful safety features mom's cooker certainly didn't have: pressure sensors, lid locks, vent shields, etc. And that means that pressure cooking is suddenly "in" again!
This recipe is based on one created by Maryanne Cabrera, The Little Epicurean, for the Almond Board of California. I like tart Granny Smiths for baked apples but any apple that has the right balance between tart and sweet with firm enough flesh to hold up in the oven will work. Try Honeycrisp, Winesap, Braeburn, Rome Beauty, McIntosh, Cortland or Gala.
Pressure Cooker "Baked" Apples
INGREDIENTS:
4 large apples
4 teaspoons almond butter
1/4 cup raisins or other dried fruit (dried cranberries, blueberries, apricots)
3 teaspoons finely chopped almonds
3 tablespoons brown sugar
1/4 teaspoon ground cinnamon
pinch of salt
2 tablespoons maple syrup, to garnish
PREPARATION:
Using a paring knife, carefully remove the core and seeds of the apples. Leave about 1/2-inch of the bottom of the apple intact.
In a small bowl, combine almond butter, dried fruit, sliced almonds, brown sugar, and cinnamon. Evenly fill the apples with this mixture using a small spoon.
Pour 1 and 1/4 cups of water into the bowl of the electric pressure cooker and place filled apples inside. Then cover the pressure cooker with lid and lock. Ensure that the steam release knob is set to the "pressure" or "sealed" position. Cook at low pressure for 5 minutes. When the cycle is finished, allow the pressure to release naturally for 5 additional minutes. After this time, manually release any leftover pressure.
Gently transfer "baked" apples to serving dish. Garnish with maple syrup to ensure apples remain moist. Serve warm with your choice of cream, whipped cream or vanilla ice cream.
---
Maisie Jane's California Sunshine Products, Inc. was founded on strong beliefs and passion for offering unique, flavorful, top-quality, nut products. We strongly believe in earth-friendly practices that start on our family owned and operated orchards. We use Organic farming practices and continue in the process by using all-natural ingredients with no preservatives or GMOs. We believe in honest, friendly and helpful customer relations at all levels. We take pride in every task, every day, with every person.