Almond Tree in Blossom by Pierre Bonnard
Posted on : March 21st, 2019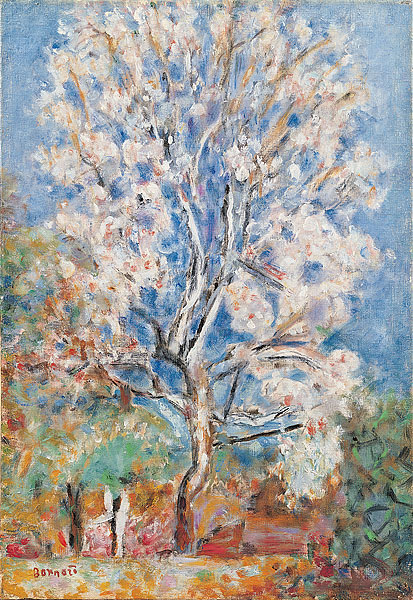 The Almond Trees are in blossom! It's such a glorious time of year. And every year as I write this blog my thoughts turn to the artists who loved almond blossoms just as much.
In the late winter of 1941, Post-Impressionist French painter Pierre Bonnard wrote to his friend Henri Matisse: "Today I saw the first almond tree blooming, and the mimosas are starting to make yellow spots." He was happy about the change of seasons and looking forward to painting one of many paintings he did of the trees in bloom on his property. He had a small pink house nestled among the trees at Le Cannet. This almond tree was in his garden and you can still see it there. He did more than one version of it. He would say that "Every spring it forces me to paint it."
Bonnard was known for his poetic-looking artwork, often done from memory and from an unusual vantage point. This painting, however, done a week before he died, was his last painting. It is one of the very few where the subject fills almost the whole frame. There is no ambiguity of message here. It is about the glory of this one almond tree that he delighted in seeing every day that he lived in this location.
---
Maisie Jane's California Sunshine Products, Inc. was founded on strong beliefs and passion for offering unique, flavorful, top-quality, nut products. We strongly believe in earth-friendly practices that start on our family owned and operated orchards. We use Organic farming practices and continue in the process by using all-natural ingredients with no preservatives or GMOs. We believe in honest, friendly and helpful customer relations at all levels. We take pride in every task, every day, with every person.