Almond Crusted Pumpkin Cheesecake Pie
Posted on : November 25th, 2019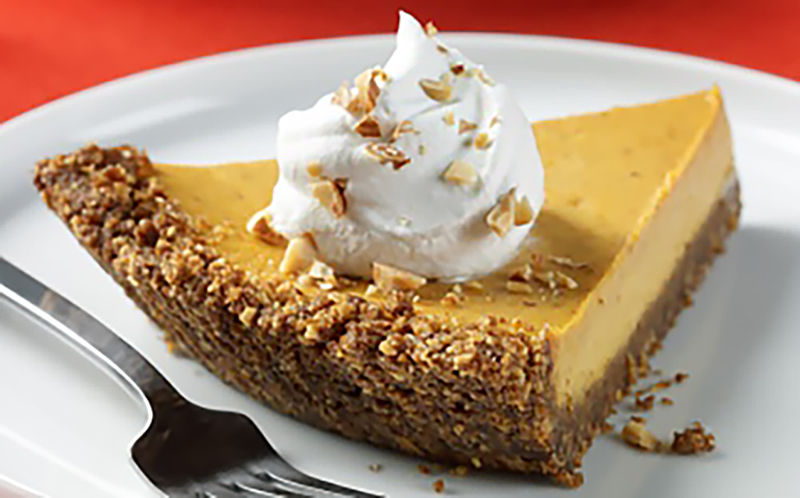 Is it really Thanksgiving without pumpkin pie? Not for me! And it's probably one of my favorite desserts. The only thing that makes me happier is one of my mother's famous cheesecakes! But what if you could combine pumpkin pie and cheesecake in one delicious treat? Thanksgiving nirvana! That's what this recipe for Almond Crusted Pumpkin Cheesecake Pie means to me.
This is a pretty easy recipe. But you'll find it sets up best if you make it a day ahead and allow it to chill in the refrigerator overnight. Serve it with whipped cream or vanilla ice cream.
Almond Crusted Pumpkin Cheesecake Pie
INGREDIENTS
1 cup whole natural almonds
2 Tbs. sugar
1 cup gingersnap crumbs (approximately 20 gingersnaps, crushed)
5 Tbs. butter, melted
1 lb. fresh cream cheese
2/3 cup brown sugar, packed
1 tsp. grated orange peel
1/2 cup sour cream
3 eggs
1 1/2 cups canned pumpkin
1 1/2 tsp. pumpkin pie spice
Sweetened whipped cream or ice cream
Optional: Finely chopped candied ginger
PREPARATION
Preheat oven to 325°F.
Spread almonds in a single layer on a cookie sheet and toast 12 to 15 minutes in the preheating oven until lightly browned. Cool; chop coarsely. Place a generous half cup of almonds in food processor bowl with sugar. Use metal blade and process until very finely chopped.
Pour the chopped almonds and sugar into a large bowl. Then add the gingersnap crumbs and mix. Pour in the butter and stir well to combine. Press into the bottom and sides of a 10-inch pie plate to form a crust. Bake 10 minutes; set aside to cool.
In a large bowl, beat cream cheese and brown sugar with orange peel until well blended. Beat in sour cream and the eggs, one at a time, until mixture is light and fluffy. Beat in pumpkin and pumpkin pie spice until well blended.
Place pie shell on a cookie sheet; pour pumpkin cheese mixture into crust. Bake in the middle of the preheated oven for 45 minutes or until filling is set.
Let cool on a rack. Cover and refrigerate overnight. Top with sweetened whipped cream and remaining chopped almonds and optional chopped candied ginger to serve.
---
Maisie Jane's California Sunshine Products, Inc. was founded on strong beliefs and passion for offering unique, flavorful, top-quality, nut products. At Maisie Jane's we strongly believe in earth-friendly practices that start on our family owned and operated orchards. We use Organic farming practices and continue in the process by using all-natural ingredients with no preservatives or GMOs. And we believe in honest, friendly and helpful customer relations at all levels. We take pride in every task, every day, with every person.