Almond Crusted Mango Pork
Posted on : June 18th, 2019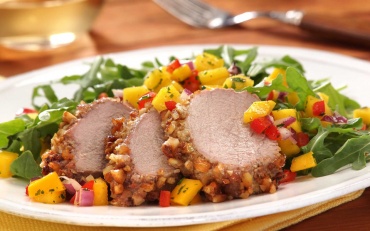 It's officially summer in Chico—not by the calendar but by the 100ºF heat! And that's when my dinner thoughts turn to fruit and simple dinners of salad topped with some kind of tasty meat that can be made on the backyard grill. Today's recipe can be made in the oven if you're not a fan of grilling. It has a fancy enough feel that you'll want to consider it for a special dinner but it's easy enough for everyday. And it's topped with Mango Relish! That's practically a staple in my house. I put that on everything—with crackers and cream cheese last night, on eggs the day before. But it's practically made for delicious slices of pork tenderloin. Bon Appétit!
Almond Crusted Mango Pork
Ingredients
2 large, ripe mangoes, peeled, pitted and diced
1/4 cup red onion, minced
1/4 cup red bell pepper, minced
1 tbsp. red wine vinegar
1 tsp. fresh mint, chopped
3/4 cup chopped roasted almonds
2 tbsp. brown sugar
1 tsp. ground cumin
1 tsp. ground coriander
1/4 tsp. cinnamon
2 pounds pork tenderloin
1 1/2 tbsp. extra virgin olive oil
Sea salt and freshly ground pepper, as desired
Preparation
In a medium bowl, stir together mangoes, onion, bell pepper, vinegar, and mint. Season to taste with salt and pepper. Cover and refrigerate until ready to serve.
From the Grill:
Finely chop 1/2 cup almonds and stir in brown sugar and seasonings. Brush pork with oil then season with salt and pepper; roll in almond mixture, pressing into the surface. Transfer to a piece of heavy-duty foil and press any remaining nuts onto the top. Grill over medium heat, turning occasionally to brown each side, for 35 to 40 minutes or until the internal temperature reads 160°F on a meat thermometer. Let stand for 5 minutes before slicing.
From the oven:
Preheat oven to 450°F. Finely chop 1/2 cup almonds. Stir in brown sugar and seasonings, transfer almond mixture to a foil lined-baking sheet. Brush pork with 1½ tbsp. oil then season with salt and pepper; roll in almond mixture, pressing into the surface. Lightly spray with olive oil spray. Cook pork on foil-lined baking sheet until exterior is golden brown and meat reaches 160 degrees, 35 to 40 minutes, turning pork halfway through cooking. Let stand for 5 minutes before slicing.
To assemble, top sliced pork with mango relish and toasted almonds. Serving suggestion: Place pork on bed of mixed greens lightly dressed with olive oil, vinegar and salt and pepper to taste. (Balsamic vinegar is especially good.)
---
Maisie Jane's California Sunshine Products, Inc. was founded on strong beliefs and passion for offering unique, flavorful, top-quality, nut products. We strongly believe in earth-friendly practices that start on our family-owned and operated orchards. We use organic farming practices and continue in the process by using all-natural ingredients with no preservatives or GMOs. We believe in honest, friendly and helpful customer relations at all levels. We take pride in every task, every day, with every person.