Almond Cookies for Chinese New Year
Posted on : February 5th, 2019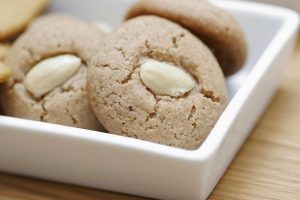 Gong hei fat choy! Happy Chinese New Year! It's the Year of the Earth Pig which in Chinese astrology symbolizes a year of good fortune—especially in terms of friendship and financial rewards! Well, that's worth celebrating and a traditional Chinese New Year celebration wouldn't be complete without almond cookies.
Almond Cookies also symbolize good luck in China. In a Cantonese restaurant you would very likely be given one instead of a fortune cookie at the end of the evening meal. (Fortune cookies aren't eaten in China, by the way. That's an American thing.) In China they symbolize coins and are meant to bring you good fortune and prosperity as you go on your way.
The almond cookie is a variation on the Chinese national cookie which is made with walnuts. It was originally made in the Ming Dynasty in the 16th century for the emperor and was only eaten by royalty. Later, when the recipe was released to all to enjoy, variations made with different nuts and seeds emerged. The almond variety developed its own meaning, following the symbolism of the almond nut itself. Almond trees are the first to bloom, usually in February, so they are harbingers of Spring. Chinese New Year is also known as the Spring Festival. Early, I know, but with the almond trees starting to blossom, could Spring be far away? It's like a message from the earth that no matter how dark and cold and gloomy it's been, good times are on their way!
So it's time to make almond cookies! And to enjoy eating them—they're delicious.
Note: you can make this recipe gluten free by substituting almond flour for the white flour recommended. It's super easy to make yourself  if you don't have any always on hand. Add an extra egg if you do to help them hold together. It will change the texture of these cookies but tastes really good!
Chinese Almond Cookies
1 cup

 

sugar

1 1/2 cups

 

flour 

1 teaspoon

 

baking soda

1/2 cup

 

butter, room temperature

1 tablespoon

 

almond extract

1 teaspoon

 

salt

1

 

egg

1/2 cup

 whole unsalted natural almonds   (the photo shows them blanched, but it's not necessary)
1. Preheat oven to 325°F.
2. Whisk egg in a bowl, remove 1 tablespoon and put in a small dish to use later.
3. Cream together the butter and sugar.
4. Add in almond extract and the whisked egg. Beat until well combined.
5. Combine flour, baking soda, and salt in a separate bowl. Then slowly add to the wet mixture.
6. Make 1-inch balls of the dough and place them on an ungreased baking sheet, about two inches apart.
7. Flatten the balls with a fork or the bottom of a glass until about ¼-inch thick.
8. Place a whole almond in the middle of each one and press down gently.
9. In a bowl, whisk the reserved 1 tablespoon egg with 1 teaspoon water. Use it to lightly brush the top of each cookie. (This will make them nice and crispy on the outside.)
10. Bake 15 minutes, or until edges and bottoms are lightly browned.
11. Wait a couple of  minutes before removing from the pan. Then place on a rack to completely cool.
Serve with tea or a glass of wine.
---
Maisie Jane's California Sunshine Products, Inc. was founded on strong beliefs and passion for offering unique, flavorful, top-quality, nut products. We strongly believe in earth-friendly practices that start on our family owned and operated orchards. We use Organic farming practices and continue in the process by using all-natural ingredients with no preservatives or GMOs. We believe in honest, friendly and helpful customer relations at all levels. We take pride in every task, every day, with every person.