Almond Butter Pumpkin Cookies
Posted on : October 31st, 2022
Happy Halloween and last day of October! Take a peek at this recipe that easily transitions us from spooky season to harvest season.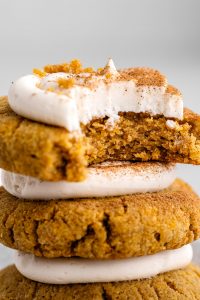 Plus, if you want your house to smell ~heavenly~ you've come to the right place.

Ingredients:
1/2 cup pumpkin purée (canned or homemade)
1 egg
3/4 cup of Maisie Jane's creamy almond butter
1 tsp baking soda
1/2 tsp cinnamon
1/3 cup of brown sugar + 2 tablespoons
1/2 pumpkin pie spice
1/4 tsp sea salt

Now for the fun part!

Preheat your oven to 350.

Combine Maisie Jane's Almond butter, pumpkin purée, 1/3 cup of brown sugar, egg, pumpkin pie spice, and baking soda.

Once everything is combined, use a cookie scoop and add your mixture to a prepared baking sheet.

Then take a small bowl and mix 2 tablespoons of brown sugar and the cinnamon so you can sprinkle it onto the cookie scoops.

Bake cookies for 15 minutes.

We will have more recipes coming your way, but in the meantime head to our Instagram and let us know what recipes YOU want to see!