Almond Blondies (Recipe)
Posted on : May 7th, 2020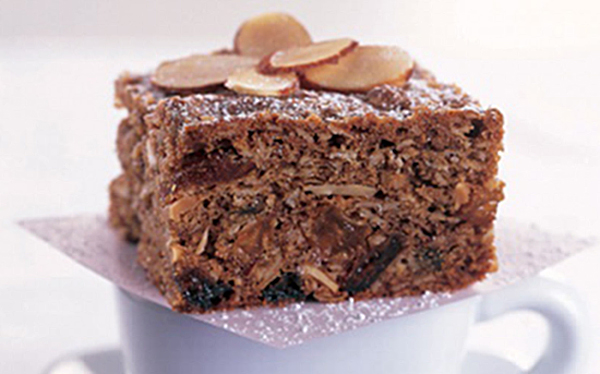 Blondies were a childhood favorite of mine. I was one of those weird kids who preferred them to brownies! And I especially loved it when I got to help make them and added whatever fun ingredients we had in the house. These days I prefer healthier additions than I would have chosen back then—there are no M & Ms in the recipe I'm sharing today! Instead these Almond Blondies are filled with wholesome nuts, almond butter, dried apricots and golden raisins. You can serve them as a treat and know they're packed with extra nutrition in every bite.
This recipe is a super easy way to satisfy your new baking addiction. Chop the nuts and apricots. Mix the wet ingredients, then the dry ingredients, and then stir in the mix-ins. Spread the batter in a baking pan and bake! Classic beginner baking with one twist: this recipe calls for lining your pan with aluminum foil before adding the batter. That means you won't have pieces of blondie stuck in your pan when you take them out, and final clean-up is a breeze.
Almond Blondies
Ingredients
Preparation
Preheat oven to 350°F.
Line an 8×8-inch baking pan with aluminum foil and grease with non-stick spray.
Cream butter and almond butter until fluffy, using a mixer. Add brown sugar, egg and almond extract, and beat until light.
Sift together flour, baking soda, baking powder, cinnamon and salt. Stir dry ingredients into butter mixture until just blended.
Stir in oatmeal, chopped almonds, apricots and raisins.
Spoon batter into prepared pan and smooth with a table knife or small spatula.
Bake 30-35 minutes, or until firm and a toothpick comes out nearly clean.
Let cool to room temperature before lifting foil out of pan. Peel foil off blondies and cut into squares.
---
Maisie Jane's California Sunshine Products, Inc. was founded on strong beliefs and passion for offering unique, flavorful, top-quality, nut products. We strongly believe in earth-friendly practices that start on our family owned and operated orchards. We use Organic farming practices and continue in the process by using all-natural ingredients with no preservatives or GMOs. We believe in honest, friendly and helpful customer relations at all levels. We take pride in every task, every day, with every person.