Almond Apricot Sauce for Fish or Meat
Posted on : March 28th, 2019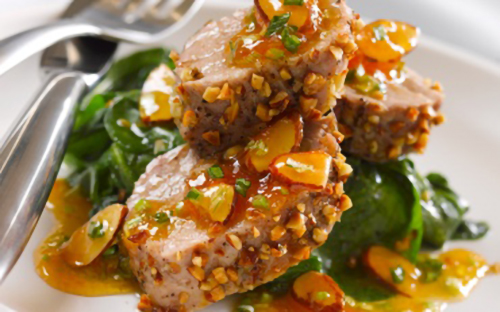 Looking for a way to liven up broiled meat or fish? I have been! I eat WAY too many stir fries and other sauteéd dishes. I also want to eat more fish but don't really like it unadorned. Today's recipe is a delightful combination of almonds, apricot, scallions, lime, and ginger. It's so easy and quick to make! It's a great way to turn something meh into something special. It's truly wonderful on pork medallions or pork chops. It would also be perfect for shrimp, salmon or other fish. If you have leftovers, try a little on sliced turkey with mascarpone and greens between slices of sourdough bread for lunch. The recipe serves six.
---
Almond Apricot Sauce
INGREDIENTS:
1/2 cup apricot preserves
1 tablespoon fresh lime juice
2 teaspoons grated fresh ginger
1/4 cup sliced or finely chopped almonds
1 tablespoon finely chopped scallion
PREPARATION:
Place the almonds in a single layer in a dry skillet, and turn heat to medium. Toast for about 2 minutes, stirring occasionally. Stir all the ingredients together in a small bowl. Serve.
---
Maisie Jane's California Sunshine Products, Inc. was founded on strong beliefs and passion for offering unique, flavorful, top-quality, nut products. We strongly believe in earth-friendly practices that start on our family owned and operated orchards. We use Organic farming practices and continue in the process by using all-natural ingredients with no preservatives or GMOs. We believe in honest, friendly and helpful customer relations at all levels. We take pride in every task, every day, with every person.